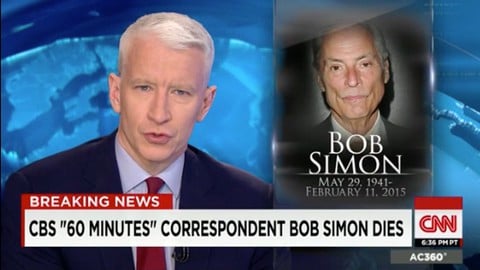 CBS News foreign reporter Bob Simon died in a car accident tonight on Manhattan's west side. Simon was riding in a livery cab when it was rear-ended and slammed into a median on the West Side highway.
Said 60 Minutes Executive Producer Jeff Fager:
"It's a terrible loss for all of us at CBS News. It is such a tragedy made worse because we lost him in a car accident, a man who has escaped more difficult situations than almost any journalist in modern times. Bob was a reporter's reporter. He was driven by a natural curiosity that took him all over the world covering every kind of story imaginable. There is no one else like Bob Simon. All of us at CBS News and particularly at 60 Minutes will miss him very much."
An emotional Anderson Cooper broke the news on CNN, calling Simon "the best in the world," a "warrior poet."
Watch his tribute, AFTER THE JUMP…
Our thoughts go out to Simon's family, friends, and colleagues.
.@andersoncooper pays tribute to Bob Simon – http://t.co/U6X7rYFpY2

— Gabriel Kinder (@gkinder) February 12, 2015