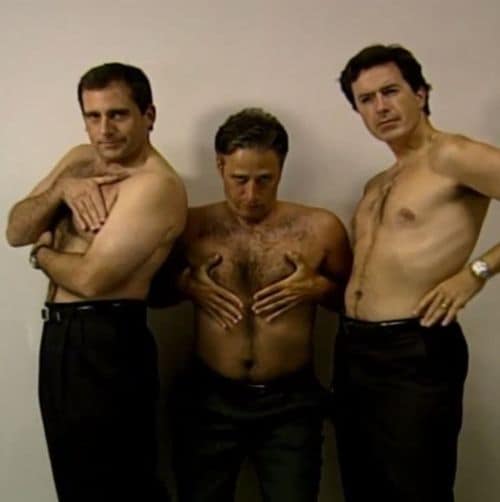 Quick hashtag linguistics lesson for the uninitiated: #TBT stands for "Throwback Thursday", and accompanies pictures and videos of yesteryear for reminiscing and, more often, mockery; #breaktheinternet is referencing some bit of news, usually trivial, that inexplicably drives massive amounts of traffic and attention, Kim Kardashian's ass on the cover of Paper being one of the more recent examples.
All caught up? Good.
Yesterday the Instagram account for The Daily Show decided to try their hand at breaking the internet with a Throwback Thursday video from the golden years of Jon Stewart, Stephen Colbert, and Steve Carell. The video features seduction, saxophone music, and an utter absence of shirts.
No more needs to be said, you just need to click through and watch the short video AFTER THE JUMP…