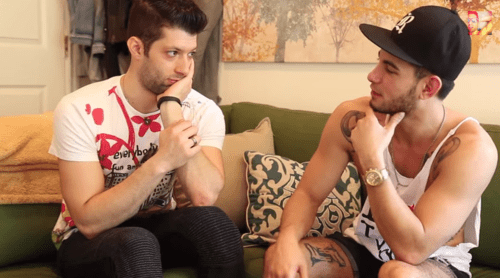 Gay couples the world over are celebrating Valentine's Day today with gifts, cards, dinners, and perhaps a little something extra. It almost goes without saying that for many people sex is an integral part of the full V-Day experience.
It stands to reason that like all other things one does with their significant other on Valentine's Day, one would want the sex to be good if not better comparison to a regular old Saturday roll in the hay. Sex is a collaborative effort, but in his latest episode of Just The Tips R.J. Aguiar and guest Ricky Roman explore the ins and outs of what it means to be a good top.
Some key takeaways: communicate, be present, and maybe (just maybe) have a bit of experience sleeping on your bottom bunk yourself. What do you think?
Check out R.J. Aguiar and Ricky Roman's tips on being a good top AFTER THE JUMP…