In a 6-2 decision late Friday, Alabama Supreme Court agreed to consider the Liberty Counsel's petition seeking an end to same-sex marriage licenses being issued by state probate judges. 
Liberty Counsel is currently representing eight Alabama counties refusing to issue marriage license to same-sex couples, despite U.S. District Judge Callie Granade's order Thursday signaling that probate judges are to follow her ruling overturning the state's ban on gay marriage.
AL.com reports: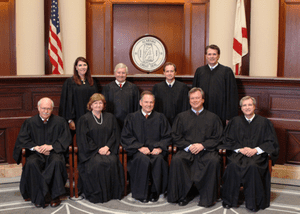 Chief Justice Roy Moore, who has been the most outspoken in advising probate judges not to issue same-sex licenses, was the only justice not listed as taking part in Friday's decision.
Also Friday, lawyers representing Equality Alabama, a group that supports same-sex marriage, filed a "friend-of-the-court" brief urging the Alabama Supreme Court to dismiss the petition. […]
"This request before the Alabama Supreme Court is nothing but an attempt at delaying the happiness that all families deserve – a last-ditch, failing effort to stand in the way of the love we've seen in this historic week," Equality Alabama chairman Ben Cooper said in a prepared statement. "The petition should be dismissed, and all probate judges in every corner of the state should follow the law."
The court's order stated the briefs by probate judges, due February 18, should address issues raised by the petition, including whether the state Supreme Court even has jurisdiction to hear the petition.