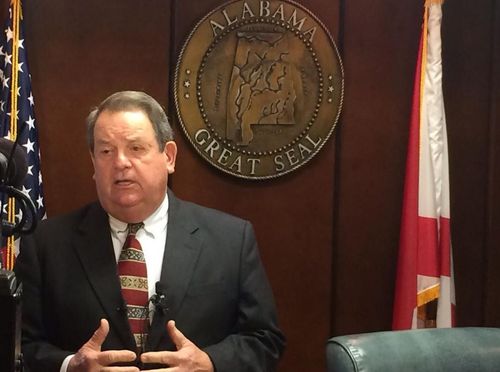 (twitter)
Reports are coming in that Probate Judge Hardy McCollum is turning away gay couples seeking marriage licenses at the Tuscaloosa County Courthouse. McCollum says he's abiding by Alabama Chief Justice Roy Moore's order yesterday instructing judges to refrain from issuing or recognizing same-sex marriage licenses.
Tuscaloosa County Probate Judge Hardy McCollum addressing media about not issue same sex marriage licenses. pic.twitter.com/y9Nt9UmzLw

— Kelvin Reynolds (@Fox6Kelvin) February 9, 2015
2 gay couples tried to apply for marriage licenses in Tuscaloosa County. They were handed a court order instead. pic.twitter.com/LNUkI56KGf

— Kelvin Reynolds (@Fox6Kelvin) February 9, 2015
No word yet on whether McCollum is continuing to issue licenses to straight couples. As we reported yesterday, judges who refuse to issue marriage licenses to same-sex couples may face fines and possible jail time. 
AL.com reports Baldwin County Probate Judge Tim Russell has announced he will no longer perform any kind of marriage at his office. He said the decision was largely related to an increasing work load within the Probate Office, but acknowledged that he's "morally opposed" to same-sex marriage.
Madison and Jackson counties have also reportedly ceased conducting marriages. Shelby County Judge Jim Fuhrmeister has said he would temporarily not issue any marriage licenses due to "confusion" over how to proceed.
Stay tuned. 
Meanwhile, Alabama Attorney General Luther Strange has issued a statement expressing regret over the Supreme Court's decision this morning not to grant the state's motion for a stay in the federal ruling overturning the gay marriage ban.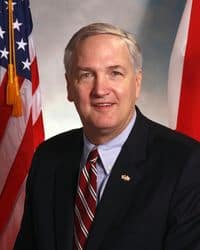 "I regret the Supreme Court's decision not to stay the federal district court's ruling until the high court finally settles the issue this summer," said Attorney General Strange.  "In the absence of a stay, there will likely be more confusion in the coming months leading up to the Supreme Court's anticipated ruling on the legality of same-sex marriage.
"With the lifting of the 14-day stay on February 9, 2015, the U.S. District Court order remains in effect, enjoining me from enforcing Alabama's laws against same-sex marriage in my official capacity as Attorney General.
"To clarify my authority in this matter, the Alabama Attorney General's Office does not issue marriage licenses, perform marriage ceremonies, or issue adoption certificates.  The Chief Justice has explained in a public memorandum that probate judges do not report to me.  I advise probate judges to talk to their attorneys and associations about how to respond to the ruling. Furthermore, I encourage any state agencies with questions about the ruling in Searcy and Strawser to contact the Governor's Office."