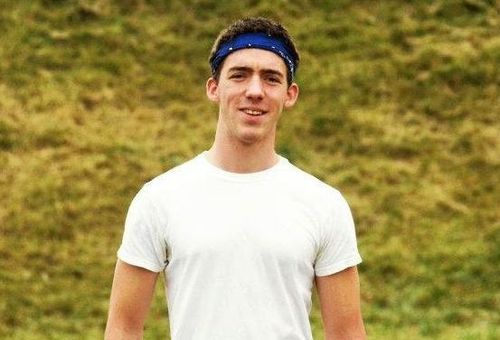 Ryan Murtha, a swimmer at Villanova University, is sharing the story of how he came out as gay to his teammates early last month in an article over at Outsports. 
Murtha, who spent years living with his secret, received a confidence boost after talking about the coming out processes with a guy he was secretly dating and other gay people. He decided to tell his fellow swimmers during a team meeting after the first practice of the new year – sharing his "coming out speech" that had been saved on his computer as a file called "Tax Returns 1994".
So this is tough for me and I apologize for taking so long to tell you guys this, but it took me forever to admit to myself and then it's been really hard to work up the courage to say it.
I'm gay. I've tried to bury this part of myself for a long time but slowly grew to accept it over the past year and a half. I want you guys to know that this isn't something that I chose. I was just born with it.
Anyway, I want you to know that I'm still the same person that I've been. I hope you guys don't see me any differently because of this. I don't think it should define me totally; it's just one of many parts that make up who I am.
But if for whatever reason you don't like me because of this, I guess I can't blame you because for a long time I hated myself for being gay, too. I made myself believe that living with this shame was worth not losing any of my friendships. But I don't want to be ashamed anymore. And I've kind of felt like I wouldn't be able to 100% accept myself and move on until I could be truthful with my friends. That's you guys. So if you're down to stick around and still be my friend, I can't even begin to say how grateful I would be.
If you have any questions or if you want to talk to me about it, feel free.
After a moment of silence, Murtha's teammates broke out into applause and rallied around him. They assured him they still loved him and that his declaration wouldn't change a thing.
A lifelong Boy Scout, Murtha realizes that his dream of becoming a Scout leader will sadly no longer be possible now that he's openly gay. In 2013, the organization chose to lift it's ban on gay Scouts but keep in place its prohibition on any gay person working with youth from a leadership position. 
Says Murtha: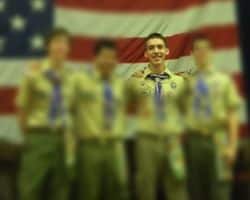 "It seems hypocritical not letting gay leaders into the Scouts. The Scout Law lays it out pretty clearly. 'A Scout is trustworthy, loyal, helpful, friendly, courteous, kind, obedient, cheerful, thrifty, brave, clean and reverent.' The policy prohibiting gay people goes against a lot of those points…It sucks. I met my best friends in Boy Scouts. I have the best memories of it, and my brothers all went through it. It's been such a big part of my family and I learned so much of it. It shaped who I am today. I have a desire to give back to the next generation of Scouts, but I'm not allowed. It hurts. It feels like rejection."
Murtha adds that he has also come out to his Catholic parents, who are still struggling but have offered him love and support. 
Check out the full article over at Outsports here.