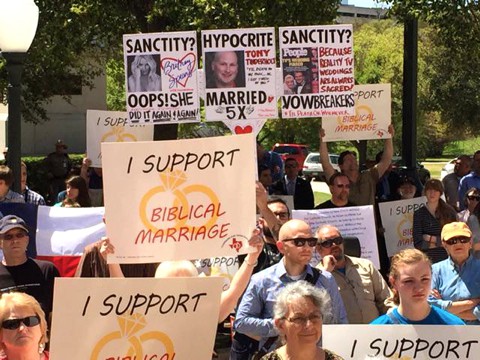 Alabama Chief Justice Roy Moore says if he didn't speak out against same-sex marriage, he'd be guilty of treason. 
Moore also says the definition of marriage comes from God and that homosexuality should still be illegal. And he seems to agree with his troubled son — who said his recent arrest for drug possession was an attempt by his father's critics to destroy their family. 
Justice Moore took his show on the road Monday, speaking to hundreds at an anti-gay rally at the Texas Capitol. From The Texas Observer: 
At a rally against same-sex marriage on the south steps of the Texas Capitol on Monday, Moore invoked Col. William Barret Travis, the namesake of Travis County, an Alabama native who came to Texas "to draw a line in the sand at the Alamo."

"He took a stand in the face of an enemy that was far more numerous," Moore told a crowd of hundreds, including dozens of Republican state lawmakers. "But he knew that he had to make a statement for the people of Texas, and that he would give his life. I hope I don't give my life, but I'm going to tell you this is a very serious matter. … If we fail to stand up today, we will dishonor the memory, not only of Col. Travis, but all those who've died in the history of this great state. … 

"No court has any authority to redefine what God proposed in Genesis," Moore said. "The definition of marriage, you want it by man, it doesn't come by man, it comes from God."
Also speaking at the rally were anti-gay Pastor Rick Scarborough, Texas Lt. Gov. Dan Patrick, Attorney General Ken Paxton, Rep. Cecil Bell and Sen. Charles Perry. Perry (no relation to former Gov. Rick Perry) called his pastor, David Wilson, to the stage. From the Observer: 
"If humans invented marriage, then polygamy, the taking of several wives, polyandry, the sharing of a wife by several husbands, same-sex marriage, marriage between an adult and a child, marriage between relatives, might seem normal and acceptable," Wilson said. "But if man created marriage, then monogamy, the lifelong union of one man to one woman, would have no more intrinsic value than any other type of marriage. But marriage is not human invention, it is God's design."
One counterprotester carried a sign (above) pointing out that GOP Rep. Tony Tinderholt, who recently filed an ethics complaint against a Texas judge who struck down the state's marriage ban, has been married five times: 
"I'm just wondering what gay marriage destroyed his previous four marriages," said Gary Campbell of Austin.
Watch video of speeches by Moore, Scarborough, Paxton and Patrick, as well as an interview with Moore, AFTER THE JUMP …