An Indiana-style bill allowing individuals to discriminate based on religious beliefs has just passed the Arkansas Senate. Arkansas Online reports the bill first heads back to the House to consider amendments added on the Senate side before heading to Gov. Asa Hutchinson's desk.
Hutchinson said Thursday he intends to sign the bill. 
HRC reacts via statement: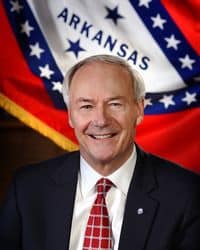 Today, the Human Rights Campaign (HRC) and HRC Arkansas condemned the Arkansas senate's passage of H.B. 1228, an Indiana-style bill that will open the door to discrimination against LGBT people, people of color, religious minorities, women and other minority groups across the state. After a formal procedural hurdle, the bill will be on its way to Governor Asa Hutchinson's desk. HRC has repeatedly called on the governor to veto this legislation, including at a press conference featuring HRC president Chad Griffin yesterday.
"This bill is a poison pill for jobs and investment in the state of Arkansas, and Governor Hutchinson has a duty to veto it," said HRC President and Arkansas native Chad Griffin following the Senate vote. "If he does not, his reputation will be forever stained and the people of the state of Arkansas will suffer for his willingness to cater to a small political faction whose sole intent is to discriminate against their fellow Arkansans."
The bill has been opposed by Wal-Mart, Apple, and the Arkansas Municipal League for weeks. Yesterday, following the enactment of a similar bill in Indiana, a wave of high-tech companies like Yelp and Salesforce — precisely the kinds of investment Governor Hutchinson has said he hopes to attract to the state — have condemned this kind of legislation.
Jon Stewart ripped into the bill in a segment last week. Civil rights legend Julian Bond has also spoken out against the bill, saying:
"H.B. 1228 in Arkansas opens the door to a hateful past that some had thought this country had left behind. This legislation cloaks discrimination in the guise of religion–and it will mark people of color, LGBT Arkansans, religious minorities and women as second class citizens. Governor Hutchinson has a duty and a moral obligation to veto this legislation or the ghosts of the past will haunt his legacy."
Apple is open for everyone. We are deeply disappointed in Indiana's new law and calling on Arkansas Gov. to veto the similar #HB1228.

— Tim Cook (@tim_cook) March 27, 2015
Hutchinson's office can be reached at 501-682-2345.