Pat Robertson says that Christians who provide services to same-sex weddings are mixed up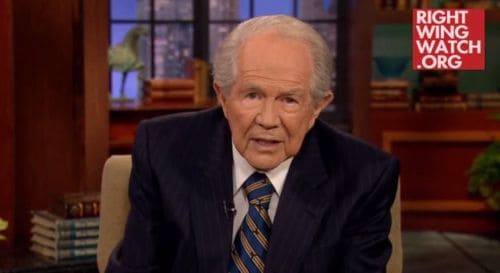 Old windbag Pat Robertson was perturbed earlier this week by the notion that Christians would be better served by reeling in the anti-gay hate.
Robertson – who believes all gay people are "recruited" or molested – was replying to a 700 Club viewer who questioned why some Christians believe they have the right to "refuse service to others because they don't agree with their lifestyle," reports Right Wing Watch. The viewer added that such actions won't "bring them closer to Jesus."
However, Pat said the viewer was "mixed up" and insisted that Jesus himself would refuse service to gay people rather than participating in an "ungodly lifestyle."
He then went on to reference the good book:
"If somebody gives you meat and doesn't say anything about it, then you eat the meat; but if he says 'this is meat offered to idols,' then you don't eat it because you don't want to participate in idol worship."
Thanks for clearing that up, Pat.
In a separate clip, a caller asks Roberson advice on what to do with a gay son who is planning on having a child with his husband. 
"This so-called lifestyle — I just can't believe it," Robertson exclaimed. "They have tried to destroy marriage." 
Watch, AFTER THE JUMP…
Last month, Robertson said that catering for same-sex weddings is like servicing man-dog weddings.