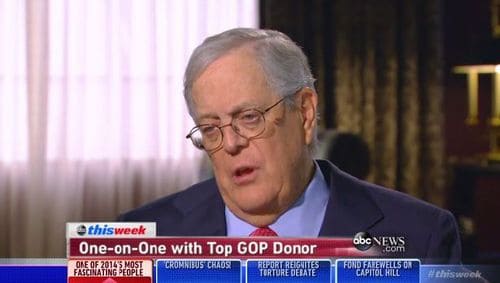 Billionaire GOP megadonor David Koch is signing on to an Supreme Court amicus brief supporting same-sex marriage, The Washington Free Beacon reports:
Koch, the vice president of Koch Industries and the world's sixth wealthiest person, is a deep-pocketed donor to Republican and conservative groups.
Koch Industries general counsel Mark Holden confirmed on Tuesday that Koch will sign his name to the brief. Holden said he did so in his personal capacity.
"I believe in gay marriage," he told Politico in 2012. A former vice presidential candidate on the Libertarian Party ticket, Koch is in line with that movement's thinking on the issue, despite his support for a party that frequently opposes gay marriage.
"I think the Republican Party has a great chance of being successful and that's why I support it … but I believe in the libertarian principles," he told Politico.
In his interview with Barbara Walters for her "10 Most Fascinating People of 2014" special back in December, Koch was asked why he backs anti-gay candidates despite his personal support for marriage equality. His reply? "That's their problem."