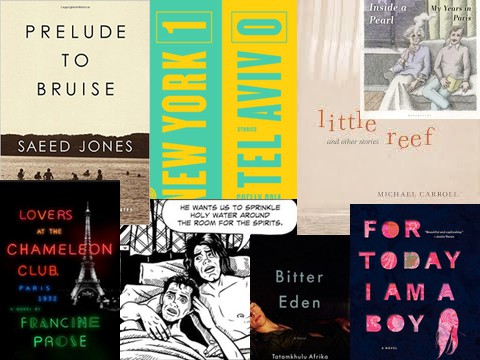 The 27th Annual Lambda Literary Award finalists were announced yesterday in 24 categories. The organization received a record-breaking 818 submissions from 407 publishers.
Read the full list, AFTER THE JUMP…
The winners will be announced at a ceremony on June 1.
Said Lambda Literary Board President, S. Chris Shirley in a press release: "Each year, the Lammys bring national attention to the best LGBTQ books, which are often overlooked by the mainstream media and might otherwise be forgotten. This critical program of Lambda Literary not only recognizes the outstanding work of these talented authors, but also underscores the importance of LGBTQ stories, which are fundamental to the preservation of our culture."
We also like to bring attention to LGBT books here at Towleroad and our book reviewer Garth Greenwell turned in reviews last year for 8 of the books that are among the nominees. We would like to highlight some of those reviews here.
For Today I Am a Boy, Kim Fu (nominated in Best Transgender Fiction).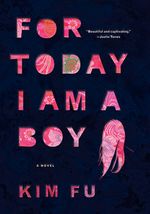 From Garth's review:
"Structured in short, intense fragments and poetic scenes, Kim Fu's novel follows Peter's life over three decades, and one of its strengths is that Peter's coming of age doesn't fit into any easy narrative of liberation. Even when he does fall in with a group of young people who seem entirely comfortable with their queer identities, with rich lives and loving relationships, Peter's response, at least at first, is to feel less relieved than enraged…For Today I Am a Boy is an extraordinarily accomplished first novel, and Fu is a thrilling new voice. She's at once compassionate toward her characters and uncompromising in her refusal of the usual novelistic resolutions of questions that remain intractable in lived experience. Lyrical, sometimes brutal, always beautiful, this is a brilliant book."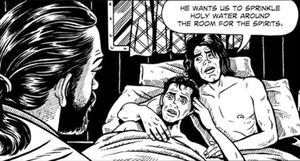 Second Avenue Caper, Joyce Brabner (nominated in Best LGBT Graphic Novels)
From Garth's review:
"Joyce Brabner's nonfiction graphic novel recounts the early years of the AIDS crisis as experienced by a tight-knit circle of "gay artists, writers, actors, musicians, dyke activists, drag queens," who respond to the devastation of the disease with acts of remarkable daring and generosity…These early pages of the book are exuberantly joyful, as Ray's apartment is packed with friends eating and drinking and smoking together, playing games and singing songs, throwing out ideas for plays and musicals, and above all gossiping, cattily and lovingly. Mark Zingarelli's direct and emotive illustrations capture beautifully the intimacy and trust between these queer outsiders, who create a rich and sustaining family for themselves."
New York 1, Tel Aviv 0, Shelly Oria (Nominated in Best Lesbian Fiction)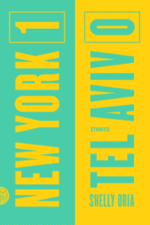 From Garth's review:
"Disorientation afflicts nearly all of the characters in Shelly Oria's nimble and disarmingly moving debut collection of stories. Many of them are (like Oria herself) Israeli immigrants in New York City, navigating multiple cultures and languages; others find themselves in worlds where the usual rules (of weather, say, or time) break down; all of them are bewildered by desire…Oria's characters are often stripped of the usual, prefabricated categories of identity: "I think, Who is this person?" the narrator of the title story wonders, "That me who isn't Israeli and isn't American, isn't gay and isn't straight–who is she?" This disorientation makes them profoundly vulnerable, able to ask with a sometimes devastating bluntness the most dangerous questions: "I think: This is what there is, this is my life. I think: Do I want it or not?" In Oria's excellent collection, these questions result in stories that are heartbreaking, inventive, and almost miraculously alive to the subtleties of feeling."
Prelude to Bruise, Saeed Jones (Nominated in Best Gay Poetry)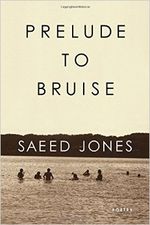 From Garth's review:
Saeed Jones begins this electrifying book—one of the most exciting debut collections I've read in years—with a quotation from Kafka's notebooks: 'The man in ecstasy and the man drowning—both throw up their arms.'… These poems bear witness to the fact that to be black and gay in America—and especially in the American South—is to be confronted with violence from every side: on the street and in the home; from strangers and friends alike; most painfully, from within the self…Like the great poets his lines recall—Whitman, Audre Lorde, Adrienne Rich, James Baldwin, to name just a few of the voices that inform this book—Jones makes a music that feels adequate to rage and grief on both a personal and a national scale. Prelude to Bruise is more than a promising debut; it's the rare book of poetry that urgently speaks—and will continue to speak, I suspect, for a long time—to the intractable griefs of our present moment."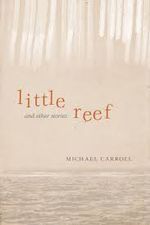 Little Reef and Other Stories, Michael Carroll (Nominated in Best Gay General Fiction)
From Garth's review:
"The unpredictable drift of southern conversation may lie behind the unconventional shape of many of these stories. In an interview with the writer Andrew Holleran, Carroll speaks about his desire to break free of the traditional structure of the short story, in which rising action leads to climax, resolution, and epiphany or realization. Instead, he allows his stories to find their way in a looser, less predetermined way, allowing for sudden juxtapositions and unexpected turns and constant, vivifying surprise…It also allows for the emergence of what may be Carroll's greatest strength, his ability to inhabit the deep consciousness of his characters. "What was writing except a direct line into someone's head," the wife in "Referred Pain" muses, and what makes Carroll's characters so vivid is the access we're given to their experience of their own lives."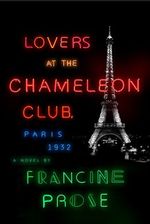 Lovers At The Chameleon Club, Paris 1932, Francine Prose (Nominated in Best Lesbian General Fiction)
From Garth's review:
"Francine Prose's engrossing, virtuosic new novel uses a fictional version of Brassaï's photograph to create a moving narrative of a group of friends and associates over two decades, as Paris devolves from the 1920s bohemian paradise of expatriate artists to the nightmare of rising fascism and Nazi occupation. In Prose's version, the suited woman of the photograph is Lou Villars, a desperately unhappy former athlete who will become, thanks to the people she meets over the course of the novel, a nightclub performer, a racecar driver, a Nazi spy, a torturer. More than anything, she will be a tool, forever shaping herself to what she thinks are others' wishes, manipulated in ways she never fully sees….This ambitious novel paints a wide canvas, and doesn't shy away from the familiar figures and events of the Second World War—there's even a wonderful scene, at once chilling and ridiculous, with Hitler himself, who infects Lou with his crazed messianic fervor. But the real achievement of the book is that the intimate dramas of its characters' lives remain our chief concern, the medium through which we understand the horrors of war."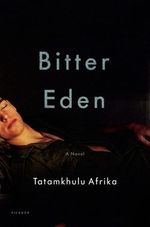 Bitter Eden, Tatamkhulu Afrika (Nominated in Best Gay General Fiction)
From Garth's review:
"On the first page of Tatamkhulu Afrika's intense and passionate novel, the narrator, Tom Smith, receives a package from a man he hasn't seen in half a century. What it contains will send him back to the years he spent in Italian and German POW camps during the Second World War, camps that, for all their horror, Tom remembers as a "Bitter Eden." Bitter EdenThe book's depiction of the day-to-day life in those camps is extraordinary. Captured in Northern Africa, Tom finds himself in a desperate world of starvation and ingenuity, of lice and cigarette economies and amateur entertainments. It's "a place where anything unclaimed is everyone's prey," and where in their hunger men become nothing more than "meat wanting more meat so that it can go on being meat." It is a brutal place, and yet it allows for intimacies and affections the broader world prohibits."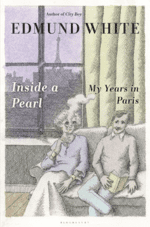 Inside a Pearl: My Years in Paris, Edmund White (Nominated in Best Gay Memoir/Biography)
From Garth's review:
"Reading Edmund White's fascinating, vital new memoir, which covers the fifteen years he spent in France in the 1980s and 90s, feels a little like attending the world's most fabulous cocktail party. The pages are filled with impossibly glamorous people doing impossibly glamorous things, from literary lights like Susan Sontag and Julian Barnes and Alan Hollinghurst, to celebrities of a different stratosphere, like Lauren Bacall and Tina Turner and Yves Saint Laurent. At the center of it all is White, who for four decades has been, in both fiction and nonfiction, our preeminent chronicler of gay life. When the period covered by Inside a Pearl begins, in 1983, White has just published his classic novel A Boy's Own Story, and he arrives in Paris armed with that success, as well as high school French and sixteen thousand dollars from a Guggenheim Fellowship…Inside a Pearl is a beautiful, hugely endearing, often brilliant book, a worthy record of White's attempt to be true to what he sees as the several purposes of his life: 'to teach, to trick, to write, to memorialize, to be a faithful scribe, to record the loss of my dead.'"
READ THE FULL LIST OF LAMBDA LITERARY AWARDS FINALISTS, AFTER THE JUMP…
27th Annual Lambda Literary Award Finalists
Note: The number of finalists in a category is determined by the number of submissions in that category.
BISEXUAL FICTION
BISEXUAL NONFICTION
GAY EROTICA
GAY GENERAL FICTION
GAY MEMOIR/BIOGRAPHY
GAY MYSTERY
GAY POETRY      
GAY ROMANCE
 LESBIAN EROTICA
LESBIAN GENERAL FICTION
LESBIAN MEMOIR/BIOGRAPHY
LESBIAN MYSTERY
LESBIAN POETRY
LESBIAN ROMANCE
LGBT ANTHOLOGY
LGBT CHILDREN'S/Young adult
LGBT DEBUT
LGBT DRAMA
LGBT GRAPHIC NOVELS
LGBT NONFICTION
LGBT SF/F/HORROR
LGBT STUDIES
TRANSGENDER FICTION
Transgender Non-Fiction