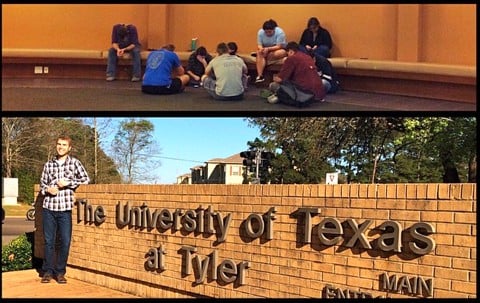 A group of anti-gay protesters reportedly staged a prayer circle this week outside a screening of the film "Bridegroom" in East Texas. 
"Bridegroom," of course, is the award-winning documentary about Shane Bitney Crone and his partner of six years, Tom Bridegroom, who died in a tragic accident. Crone had no legal rights because they could not marry and was barred from attending the funeral by Bridegroom's family. He created a viral YouTube video, "It Could Happen To You," that was adapted into the movie, which premiered in 2013.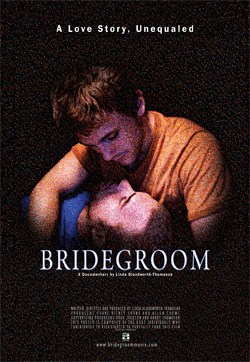 On Monday, the film screened at the University of Texas at Tyler in conservative East Texas. In a post on Instagram, Crone detailed the anti-gay protest outside:
While the film was playing, a prayer circle formed in the lobby. I watched as the small group congregated, quietly praying for the "Heavenly Father" to "help everyone inside that theatre to see the truth." Apparently a local Catholic group on Facebook had put out a call to action, urging "prayer warriors" to get down to the screening of the "controversial" film.
Crone said when he invited the protesters in for the post-film Q&A, they seemed shocked by his hospitality and apologized for the fact that he'd been discriminated against by other Christians: 
I appreciated their sympathy, however their sentiments came with a caveat: "But you have a choice to act on your impulses to sin."
And here's how Crone describes his response: 
I explained that while it's important to respect other people's views, I disagreed with the heart of their statement. "If all sins are equal, then it's hard for me to comprehend why an entire group of you would have an emergency prayer session outside of the screening of a film that tells a love story about two men. If you are willing to go to such great lengths to stop everything you're doing to try and 'save' everyone who came to the screening, shouldn't you be having these same kind of prayer circles around divorce attorneys' offices to 'save' people from acting on the sin of divorce?"

I can't understand why people go to such great lengths to shout from the rooftops that "Homosexuality is a sin and must be stopped!" when every single one of us is a "sinner" to some degree.

I am shocked by the amount of time, energy, and money people spend trying to deny LGBT people equal rights. Imagine if that same time, energy, and money were spent combatting world hunger or curing cancer; the world would be a healthier, happier place, I am sure.
Watch a report on the screening from KLTV, AFTER THE JUMP …