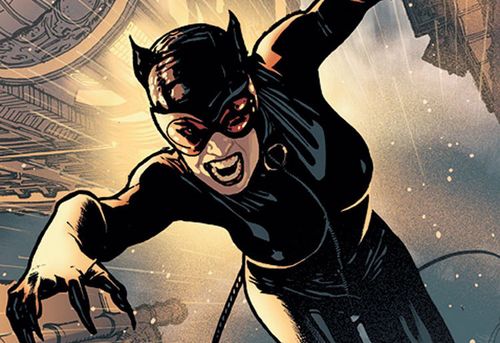 Poison Ivy and Harley Quinn aren't the only queer ladies prowling the streets of Gotham anymore, folks. After decades of flirtation and fervent fan speculation, Catwoman is now a canon bisexual according to current Catwoman head writer Genevieve Valentine.
"She's flirted around it – often quite literally – for years now; for me, this wasn't a revelation so much as a confirmation," said Valentine. "The more we talked about it, the more it was something I wanted to make happen."
In the 54 years since she first appeared in the pages of DC Comics Selina Kyle has lived many different lives. As the most iconic Catwoman, she's been written as a jewel thief, a sex worker, as a recurring love interest to Bruce Wayne's Batman.
Though sensuality and allure have always been hallmarks of Catwoman's character, her sexuality has mostly been characterized as another weapon she used to befuddle her male foes. Recent events in Selina's life, Valentine explains, presented the perfect opportunity to change that.
"And as Mark Doyle and I were first hashing out the relationships in this arc, Eiko seemed like the right person: intelligent, driven, in that uncanny valley of Almost Catwoman, and knows enough about Selina that their honesty has become something of a shelter in a situation that's getting increasingly dishonest for everybody involved."
Eiko, for the unfamiliar, is a companion of Kyle's with a similarly dubious past crime. In addition to being Selina's newfound love interest, Eiko recently donned a Catwoman mask of her own in hopes of combating her Yakuza crime family.
"Was it a surprise for them? In terms of their sexualities, not particularly; certainly it's no surprise to Selina that she has an attraction to a woman." Valentine elaborated. "Is this particular kiss a surprise? It's definitely surprising; this is the very last thing you're supposed to be getting into on the brink of war, and they both know it."
Check out the beginning of Catwoman and Eiko's relationship AFTER THE JUMP…