Empire actor Malik Yoba revealed in a recent interview with Black Film that lead co-star Jussie Smollett is gay. Smollett's character Jamal Lyon came out publicly via song in a recent episode of the show and Smollett himself is an advocate of gay rights such as the NOH8 Campaign. Yoba frankly confirmed Smollett's orientation in the interview, citing that the two actors share a close relationship.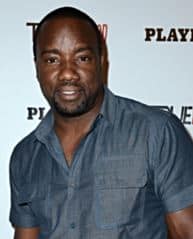 Said Yoba: 
"I think that our show represents a huge opportunity to stay in the culture beyond entertainment value and there's an intrinsic nature of you have the gay factor, right? So, obviously, Lee is gay. That was an important storyline for him. I think it's important for people to see themselves. Even within the Black community. But if you aren't really, really taking it off of screen and making it live you aren't really, really taking it off of screen and making it live in the community in a significant way…like I know Jussie, he is gay, and he's very committed to issues around the LGBT community.He and I have a very close relationship."
However, in a recent appearance on Sway In The Morning, Smollett was asked on-air if he is gay and he neither denied nor confirmed it, saying he chooses not to talk regarding his personal life.
Said Smollett: 
"I am not willing to confirm or deny anything, I live my life…if anyone is looking to put me in a box, then that's not going to happen. But if you really want to know about me, just watch, because I don't hide anything. I just don't choose to talk about my personal life."
Smollett expressed irritation with magazines hailing the show as a "black gay" show. "This is not a gay black show, this is a show about human experiences," Smollett said, calling the single-category view of the show "silly," and "unfair."
The internet rumor mill believes that Smollett is currently seeing The Read guest co-host, actor and YouTube personality Dustin Ross after a post on Ross' Instagram of the two together. The two actors played love interests in the movie The Skinny. You can watch Smollett address the gay rumors and how the smash hit Empire is more than just a "black gay show," with Sway In The Morning, AFTER THE JUMP…