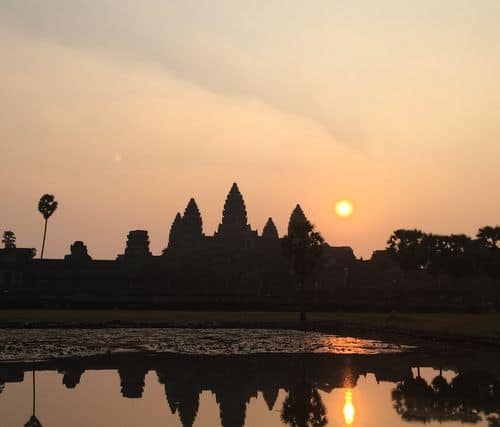 BY KYLE VALENTA
Thailand is fantastic, and they say Vietnam is everything, too, but I'm telling you straight up: Cambodia has everything an LGBT traveler would love. In fact, I'm counting the days until I can go back. My boyfriend and I spent five days in Angkor Wat, Siem Reap, and Phnom Penh this January, though the country deserves a lot more time. Check out the 10 things I learned as a gay man passing through, and move Cambodia to the top of your "Must See" list right now.
1. Phnom Penh is just gay enough.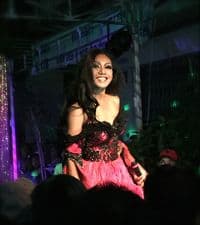 It's not New York or Bangkok, but nightlife in Phnom Penh is an easy, laid-back affair. At Blue Chilli, just west of the National Museum on Street 178, you might catch an event like Miss Blue Chilli Queen International. The monks living at Wat Sarawan across the street got an earful (and possibly an eyeful) as these queens representing countries from around the world hair-flipped, split, and high-kicked their way through formalwear, swimwear and talent portions of the competition. Set up on a stage right in the middle of the road, these ladies weren't afraid to show the whole city what they're working with—even if the lip-sync game got a little loose from time to time. On regular nights, Blue Chilli is a smaller affair, though it hosts regular drag shows, as do Rainbow Bar (136 Street) and 2 Colours (Street 13).
2. You'll live like a king or queen on a dime.
Local coffee for $.50; plates of fried noodles eaten while swapping news with your cook about ISIS and pro wrestler John Cena for $2—from food to shelter, Southeast Asia is legendarily budget friendly. We got the most for our money at the Tea House Urban Asian Resort. It's filled with plenty of glazed concrete, minimalist furniture, and local flair and is within walking distances to boutiques, upmarket cafes, bustling Asian markets, Khmer food joints, and open-air tea shops. Grab some freshly cut dragon fruit from a stand on the corner and head a few blocks north to support the women learning how to make seriously intricate cakes at Bloom Cafe and Training Center.
3. Phnom Penh's shopping game is tight (and affordable!).
Now's your chance to be that guy (or girl) with the pretentious answer when someone asks you: "Where did you get that?!" Phnom Penh and Siem Reap both have a serious helping of sweet, indie shops filled with things for your walls, your coffee tables, and your torso. In Siem Reap, especially, stores like Blue Apsara (a used book shop/art space) stay open fairly late, letting you get some shopping in after a busy day at Angkor Wat. In Phnom Penh, you'll find all sorts of one-of-a-kind items west of the Royal Palace on Streets 19 and 13. Estampe has vintage Cambodian photos in every shape and size as well as contemporary prints of local graffiti and streetscapes. While Trunkh can sell you anything from hand painted mud sculptures to fish-shaped pillows to hand-printed tea towels to T-shirts emblazoned with iconic Phnom Penh architecture.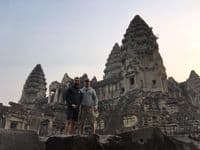 4. History is neat!
Your jaw will drop, you'll be jostled by busloads of Chinese tourists, and the magnitude of it all will make your head spin—Angkor Archeological Park is massive and worth it. Hire a tuk tuk for day one and see Bantei Srei, Bantei Samre, Ta Som, Preah Khan and then scale towering Pre Rup to watch the sunset. On your second day, rent a mountain bike ($3-4) and enjoy the peaceful ride out to Angkor Wat itself, moving to the tree-choked ruins of Ta Prohm after lunch, and spending the early evening among the giant Buddha faces at Bayon. You'll beat the hordes of crowds watching the sunset outside Angkor Wat, and you can explore Bayon's captivating tangle of staircases and stunning visuals without competition. The temple is still an active Buddhist site and you'll see monks attending prayer ceremonies in the sanctum at the top. Take a seat outside, breath in the smell of incense, and watch everything go coral and orange as the evening cooking fires send plumes of smoke up into the air in the jungle all around you.
5. History is devastating.
Cambodia is beautiful, but its violent past is never far—millions of landmines are scattered across the countryside, remnants of civil war and the Khmer Rouge. On our first night in Phnom Penh, as we walked along the Mekong River, a wild American ex-pat approached us, wanting to know what we were going to see and do while in town. When we told him we'd be visiting the Choeung Ek Killing Fields and the Tuol Sleng Genocide Museum in one day, he said, "It's a nightmare." And it was, but you shouldn't skip them. From the bone fragments still emerging from Choeung Ek's dusty soil to the eyes staring out from the Tuol Sleng prisoner portraits—there are a million ways that these places will shatter you.
Now, CHECK OUT the Do's and Don'ts, AFTER THE JUMP….
Now for a few DOs and DON'Ts: 
6. DO get a fish pedicure in Siem Reap. It's tacky, possibly unsanitary, and the whole street will stop and stare at you, but for $2, I promise you'll laugh harder than you have in a long time.
7. DON'T bother with the "cultural shows" at Phnom Penh's National Museum. It's possible we saw an off program, but you'll learn a lot more about the country just by walking around.
8. DO be adventurous with your eating. Tarantulas may not be a must-try, but something like Durian—the fruit that may or may not smell like a corpse—makes a good story. If neither of those are your thing, or you don't like good stories, just grab a freshly cracked coconut.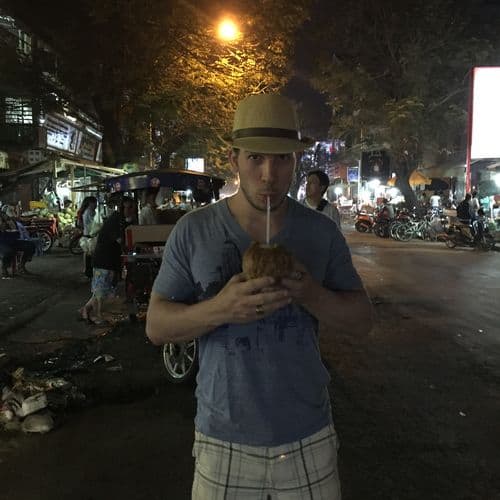 9. DON'T miss the sunrise at Angkor Wat. Watch from the south pond, where there will be far fewer people clogging up your photo ops.
10. DO pick up a copy of Ancient Angkor by Michael Freeman and Claude Jacques as your guide to the temples. It's super detailed and you'll feel like you're on a treasure hunt. And maybe you'll bump into these guys!