Guinness has announced it will return as a sponsor of NYC's St. Patrick's Day Parade, a year after dropping out as sponsor to avoid facing boycotts from several prominent gay bars for the beer company's sponsorship of the anti-gay parade.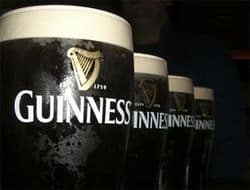 The company cited parade organizers' decision to allow Out@NBCUniversal, a group of gay employees at NBC (the network that broadcasts the parade annually), to march in this year's parade as the main reason for returning as sponsor. Previously, groups that identified as gay were banned from the parade, meaning gay individuals were allowed to march but only with other groups and not with banners that were LGBT-identified. 
LGBT Irish groups continue to be shut out from the parade.
The Wall Street Journal reports:
"It's misguided and going back on the commitment they made last year to civil rights," said Allen Roskoff, a longtime gay activist.
Emmaia Gelman, a spokeswoman for Irish Queers, an organization that has protested the parade's policy on gay groups and is calling for a boycott again this year, said Guinness's decision to pull out of the parade last year "made a big difference."
"It's disappointing," she said of this year's decision. "It appears now that Guinness's withdrawal last year was more of a PR move because the parade was coming under so much censure, and they're taking the excuse of NBC's gay employee group joining the parade as a way to put themselves back in."
Mayor Bill de Blasio didn't march in the parade last year, becoming the first mayor in two decades to boycott the event. Mr. de Blasio hasn't announced whether he will march this year, and a spokesman didn't respond to a request for comment on Guinness's sponsorship decision.
De Blasio is scheduled to march in the LGBT-inclusive St. Pat's for All parade in Queens today. A majority of City Council members have confirmed they will not take part in this year's St. Patrick's Day Parade.