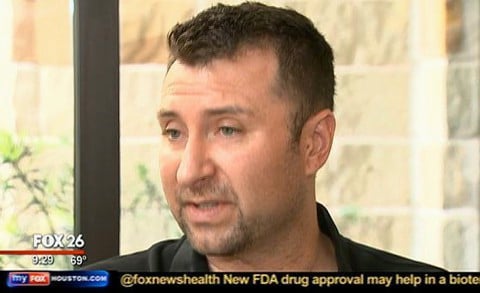 Earlier this month we told you how Houston gay activist John Gaspari was shot in the stomach in an apparent hate crime in the city's Montrose gayborhood. 
Gaspari was leaving a gay bar in the early morning hours of Feb. 15 when he was jumped by three men who robbed him, beat him and shot him while yelling, "Get the fag." The incident was among several recent anti-LGBT attacks in Montrose.  
We also mentioned that Gaspari had recently lost his job after suffering anti-gay discrimination. And as it turns out, Gaspari is suing his former employer, FMC Technologies Inc.
Gaspari said the anti-gay discrimination and harassment began immediately after he moved from Chicago to work at FMC Technologies' headquarters in Houston in 2012. Fox 26 reports:  
Gaspari says he thought he would be an employee of FMC Technologies until he retired.

"I was excited to come here," says Gaspari.

But now he's suing and based on the claims of his lawsuit his time there as a global supplier development engineer was fraught with gay slurs and mocking limp wrist gestures.

"Actually would come up to me and call me a fashionista he would flick his wrist at me make other comments that weren't appropriate," Gaspari said. "Telling me I should live in the Montrose area by my kind."
According to Fox 26, FMC Technologies denies the allegations in Gaspari's lawsuit, which was filed back in 2013. FMC Technologies provides equipment and services to oil and gas companies and employs nearly 20,000 people worldwide. 
In an email, Gaspari noted that the case is before U.S. District Judge Lynn Hughes, who has a history of discriminatory comments: 
"Once they discovered my sexuality, I have been discriminated, harassed, retaliated against, ostracized in a hostile work environment. I have been punched by my boss, slapped, called a Fag, Girl, Sister, Fashonista to name a few. It is the worst experience to have to go through and still go into work to try and perform your job and it was all reported to management, sr management and HR and it did not stop. They just turned their head."
FMC Technologies received a score of 15 out of 100 on the Human Rights Campaign's most recent Corporate Equality Index. According to HRC, the company has a policy in its employee handbook prohibiting discrimination based on sexual orientation — which accounts for the 15 points. 
Texas has no statewide LGBT employment protections, so Gaspari is pursuing a claim of sex discrimination under Title VII of the federal Civil Rights Act. He is joined in his lawsuit by two co-plaintiffs who allege sexual harassment and racial discrimination by the company.  
The Houston City Council passed an LGBT-inclusive Equal Rights Ordinance last year, but Mayor Annise Parker has suspended its implementation pending the outcome of a lawsuit aimed at repealing it. 
Watch Fox 26's report on Gaspari's lawsuit, AFTER THE JUMP …