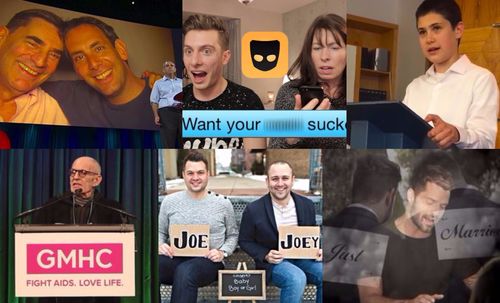 Need a refresher on all the informative, uplifting, sexy, and entertaining LGBT videos from this past week?
Look no further as we count down the best of the best, AFTER THE JUMP…
10. Henry Rollins: Conservative Homophobia Is A Widespread 'Fundraising' Tactic
Former Black Flag frontman and perennial LGBT ally Henry Rollins explains to Big Think the financial incentive behind the anti-equality crowd:
"I think that it has become a consistent and dependable fundraiser to where if every homosexual person in America said 'ok, we're awful, we have a bad lifestyle, and we'll slither under the rock that we should be living under and we'll never ask to be married again,' they would lose a major fundraising tool. People on the right would go 'no, no, no, come back queer wanna-get-married guy, we need you in the bible belt."
9. Ricky Martin Celebrates Marriage Equality in 'Disparo al Corazón' ('Shot to the Heart')
Ricky Martin is out with a new Spanish language album A Quien Quiera Escuchar (To Those Who Want to Listen) and the music video for its latest single "Disparo al Corazón" ("Shot to the Heart") has the Latin stud paying tribute to love in all its various forms.
8. Alabama Chief Justice Roy Moore Speaks at Anti-gay Rally in Texas
According to Moore, if he didn't speak out against same-sex marriage, he'd be guilty of treason. He also added that the definition of marriage comes from God and that homosexuality should still be illegal. Cheers.
7. Mom Reads Gay Son's Grindr Messages And Has a Few Things To Say About Them
So what does mom think of the Grindr messages that have rolled in overnight on her gay son's Grindr account? Turns out, she's pretty cool about it, and has a few opinions about all of them.
6. Amazing 13-Year-Old Tom Sosnik Comes Out As Trans In Powerful Speech
Wrote Tom on the video's description:
This is how I came out to my community as trans. 
Please share my story and my message with your loved ones. 
To all those struggling to embrace their true and authentic gender or sexuality, I want you to know that if no one else accepts you, I always will. 
Rest in power, Leelah.
5. His Gay Dad And The Stonewall Riots Led This Man To A Calling And A $1 Million TED Prize
Every year the $1 million TED Prize is awarded to a leader with a bold vision for sparking global change. This year's winner was Dave Isay, a radio producer with a vision of capturing the world's stories which was prompted by an experience he had after his father came out to him as gay, and told him the story of the Stonewall Riots.
4. Gay Couple Pen Adorable Meghan Trainor Parody 'Dear Future Baby' to Highlight Adoption Efforts
Minneapolis couple Joe Morales and Joey Famoso have experienced a tough road on the way to adoption, with their latest attempt to adopt a baby girl falling through at the last second. Instead of dwelling on the heartache of their situation, the two created a viral parody video set to Meghan Trainor's song "Dear Future Husband," called "Dear Future Baby" - an ode to their future baby boy or girl. 
3. Larry Kramer Accepts First-Ever Lifetime Achievement Award Named For Him By GMHC
At a ceremony Monday night, longtime activist, author and playwright Larry Kramer received the first-ever Larry Kramer Activism Award, named for him by GMHC. Kramer helped found GMHC (Gay Men's Health Crisis) in his living room, and his landmark play The Normal Heart tells the story of its founding in the early days of the AIDS epidemic in New York City.
2. The Gays Are Free To Discriminate Against Christians In Hilarious 'Religious Freedom' Parody Video
The tables have turned on the "license to discriminate" argument in this Truth Wins Out video highlighting why religion is a personal freedom, not a basis for public discrimination.
1. Announcing 2016 White House Bid, Ted Cruz Asks You To Imagine A World Where Gays Stay Second Class Citizens
The 2016 presidential election officially kicked off at Jerry Fallwell's Liberty University on Monday, where Sen. Ted Cruz asked his mandatory audience to imagine a world where the tea party firebrand somehow wins next year.
Marriage part starts around the 18:00 mark, but the whole speech is worth watching if you haven't done so yet.