Indiana Governor Mike Pence released a statement following the House passage yesterday of SB 101, a sweeping bill that would allow Indiana business owners to refuse service to customers based on religious beliefs.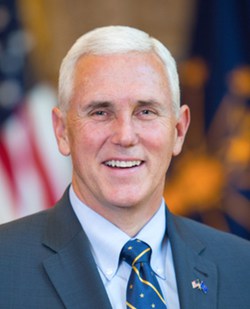 Said Pence:
"The legislation, SB 101, is about respecting and reassuring Hoosiers that their religious freedoms are intact.  I strongly support the legislation and applaud the members of the General Assembly for their work on this important issue.  I look forward to signing the bill when it reaches my desk."
LGBT rights groups reacted to the news yesterday. Freedom Indiana delivered more than 10,000 petitions opposing the bill's passage to the governor's office.
The Task Force called it "the most dangerous anti-LGBTQ law in the country."
Said HRC National Field Director Marty Rouse: "This bill dangerously allows people to pick and choose which laws they want to follow and which ones they don't. Religious freedom is important – that's why it's protected in our Constitution – but this bill is not about the right of people to practice their religion. It's about undermining basic civil rights laws and subjecting countless Hoosiers to discrimination. All people in Indiana deserve to be treated fairly and equally and should have to play by the same set of rules. We urge the House to vote this bill down and call on Governor Pence to do the right thing and veto this bill if it makes it to his desk."
Said Lambda Legal: "We are extremely disappointed that Indiana's House, despite knowing the vast implications for all Hoosiers, voted to facilitate religious discrimination in many areas of life for Indiana's families, workers and others. Once the governor signs this bill into law, women, racial minorities, religious minorities, people living with HIV and many others will be much more vulnerable to the whims of any individual or business owner who refuses services to particular groups of people based on religious objections to who those people are."