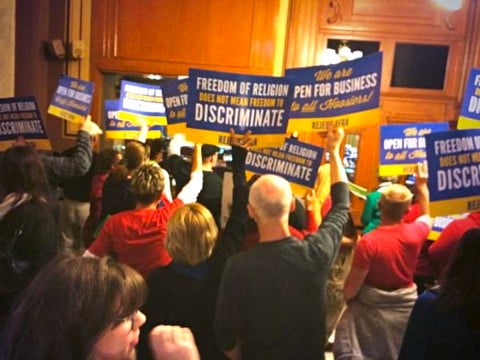 An Indiana "religious freedom" bill that would establish a license to discriminate against LGBT people is expected to pass on Monday. 
Anti-gay Republican Gov. Mike Pence has said he will sign Senate Bill 101, which cleared a House committee earlier this week despite opposition from LGBT advocates and major employers. 
BuzzFeed reports on the bill's prospects in the full House: 
"I would predict the bill passes on Monday," Indiana House Speaker Brian Bosma told BuzzFeed News in a phone interview Thursday. …

Opponents of the bill seem largely resigned to losing.

"It does seem like they have decided that this should be the law in Indiana," Jennifer Wagner, a spokesperson for the LGBT advocacy group Freedom Indiana, told BuzzFeed News.
While supporters of SB 101 maintain it's about religious freedom, the anti-LGBT group Advance America sheds light on its true purpose: 
SB 101 will help protect individuals, Christian businesses and churches from those supporting homosexual marriages and those supporting government recognition and approval of gender identity (male cross-dressers).

Here are just 3 examples:

Christian bakers, florists and photographers should not be punished for refusing to participate in a homosexual marriage!
A Christian business should not be punished for refusing to allow a man to use the women's restroom!
A church should not be punished because they refuse to let the church be used for a homosexual wedding!
The Indiana House defeated several amendments Thursday designed to minimize the bill's harm to the LGBT community, according to a press release from Freedom Indiana: 
Despite bipartisan concerns, lawmakers defeated amendments to define protecting children as a compelling government interest; include non-discrimination language in the law; prevent local human rights ordinances from being overturned; and require business owners to post signs if they plan to refuse service to certain customers. …

"We're tremendously disappointed that lawmakers would rather kick these issues to the courts instead of fixing a dangerous bill that has raised countless legal issues and concerns from businesses, faith groups, child welfare advocates and others. 

"We we will continue to fight Senate Bill 101 and hope that lawmakers see that we do not need this legislation to preserve the fundamental right of religious freedom that we all cherish."