Speaking on the steps of the Georgia Statehouse on Thursday, former Florida governor and likely 2016 GOP presidential candidate Jeb Bush indicated his approval of anti-LGBT bills like the state's proposed Religious Freedom Restoration Act – legislation that would allow people to use their religion to discriminate against LGBT individuals.
The Washington Blade reports: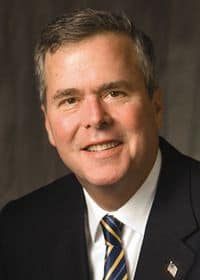 "I don't know about the law, but religious freedom is a serious issue, and it's increasingly so, and I think people that act on their conscience shouldn't be discriminated against, for sure," Bush said. "There should be protections, and so, as it relates to marriage equality — and that may change, the Supreme Court may change that. That automatically then shifts the focus to people of conscience, and, I don't know, have their faith make — they want to act on their faith, and may not be able to be employed for example." […]
According to the Atlanta Journal Constitution, Bush added, "People have a right to do that, just as we need to be respectful for people who are in long-term committed relationships. Sorting that out is important." 
Elton John and former LGBT foe Mike Bowers have already come out strongly against Georgia's bill and the HRC detailed potential scenarios that could emerge if the bill were to become law: 
In practical terms, S.B. 129 could allow businesses to refuse service to same-sex couples, a paramedic to refuse to provide life-saving services to an LGBT person, or a school counselor to refuse services to an LGBT teenager. The bill puts minority groups at risk of being denied service everywhere from the convenience store to the doctor's office.
Previously, "Jeb Bush Blows 'Religious Liberty' Dog Whistle in New Statement on Gay Marriage in Florida" [tlrd]