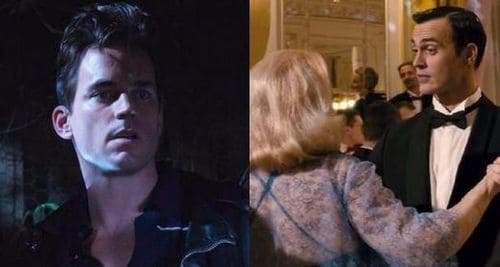 Matt Bomer and Cheyenne Jackson are joining the cast of American Horror Story: Hotel, the Lady Gaga-starring upcoming fifth season of Ryan Murphy's hit FX series, Vulture reports:
"I can't confirm or deny that there may be a romantic relationship," Bomer said of his role alongside Gaga. But he did say he'd be willing to do crazy stuff, which is always promising: "I'm down. I only got to tip my toes in the freaky-deaky nature. I'm ready to go in the deep end, baby." 
Fan favorite Jessica Lange, however, will not be returning for this new season set to debut in October, EW reports:
"Yes, I'm done," she said. "We've had a great run here. I have absolutely loved doing these four characters that I've had the opportunity to play. In all the madness, I've loved the writers, my actors, Ryan and the whole, I mean, insanity of it, shooting here, shooting in New Orleans, the stories, everything."
This isn't the first time Bomer and Jackson have collaborated with Ryan Murphy. Bomer starred alongside Mark Ruffalo in the award winning HBO film The Normal Heart and Jackson had a role on the second and third season of Glee. 
Watch a teaser featuring Gaga, AFTER THE JUMP…