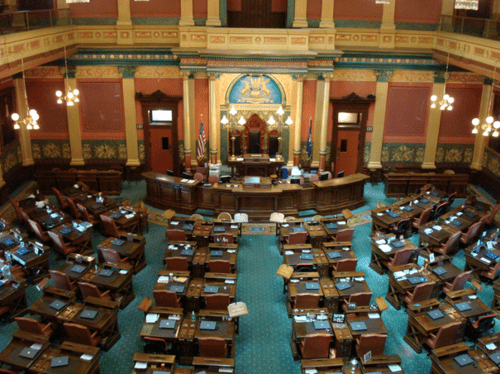 The Michigan House of Representatives will soon consider House Bills 4188, 4189, and 4190, three pieces of legislation that would empower publicly-funded adoption organizations to turn away LGBT parents interested in adopting a child. On Wednesday the block of bills was approved in a 5-3 vote within Michigan's Families, Children, and Seniors Committee.
By citing their own religious or moral convictions, the laws explain, adoption agencies would have the ability to intercede into any and all potential child placements should the potential parents be deemed unfit. State and local officials would also be technically barred from trying to challenge any public adoption agency's decision to refuse service to queer people.
Laws similar to these three were first proposed during the Michigan House's last legislative session, but were ultimately dismissed after dying in the state senate. This time around, however, advocates of the bill are pushing for a swift advancement to the Senate floor, something LGBT rights groups are urging Michiganders to fight.
"This legislation is making things harder for the over 3,000 foster care children currently awaiting homes," said Equality Michigan's political advocacy director Sommer Foster. "Our leaders are wasting precious time and our money to harm children in need."
According to Equality Michigan there are some 14,000 children caught up in the state's foster care system, many of whom are stuck in a legal limbo linked to the sexual orientations and gender identities of their prospective, adoptive parents. What's more, the House Bills themselves make explicit reference to the fact that their restrictions could, in fact cause outcomes not "in the best interests of the adoptee."