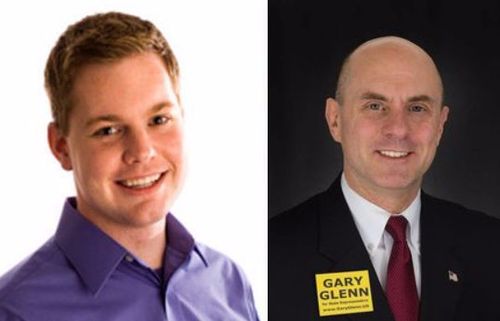 Gary Glenn, a Michigan state representative and president of the state's American Family Association chapter, wants you to know that your Midland local news will now be overseen by a homosexual.
Agenda Alert — Midland Daily News' new news editor: political science major who "lives in Midland with (his) husband"…

Posted by Gary Glenn on Sunday, March 22, 2015
MLive reports:
Glenn said he believes the community has a right to hold the newspaper and its staffers accountable and to question anything that could influence how they "represent our community's values."
"I posted the paper's own report — without comment or criticism — except to alert readers to the reasonably observed possibility that this new position might be used to promote a political agenda or bias that's at odds with our community's values," he said.
Lascari said he has not been contacted by Glenn in connection with the issue, though he is aware of the state representative's posts on social media.
"I am aware that Michigan Rep. Glenn has issued an 'agenda alert' on Facebook and Twitter to let his supporters know about my marital status," he said. "I welcome him to contact me to speak about any topic at any time. In my new role as news editor at the Midland Daily News I look forward to helping my team produce quality stories that are accurate, interesting and important."
Related, "Michigan Wingnut Attempts Record for Most Mentions of the Word 'Homosexual' In a Single Robo-Call"