Patricia Jannuzzi, the New Jersey Catholic high school teacher whose anti-gay Facebook rant about the gay "agenda" drew swift condemnation from celebs like Susan Sarandon and Real Housewives cast member Greg Bennett, has been placed on administrative leave, MyCentralJersey.com reports: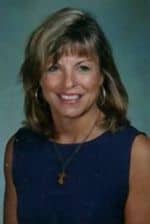 In a letter to the school community on Friday afternoon, Msgr. Sean Brennan, pastor of Immaculate Conception Parish, and Principal Jean Kline said the postings by religion teacher Patricia Jannuzzi (right) were "completely inconsistent with our policy and position as a Catholic Christian community."
In their letter, Brennan and Kline said that Immaculata "is a community that follows the example of Jesus Christ in welcoming all people."
"We will do everything we can in this trying time to make clear that the philosophy of Immaculata High School is one of inclusion rooted in the teachings of Jesus Christ," the letter said.