Presumably fearing an Indiana-style backlash against his state, North Carolina's Republican Governor Pat McCrory has come out strongly against a proposed "religious freedom" bill, WRAL reports: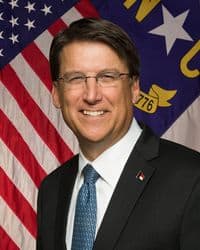 "What is the problem they're trying to solve?" McCrory asked during Monday's broadcast of WFAE's Charlotte Talks program.
Large parts of the program focused on situations where McCrory had differences with conservative Republicans at the state legislature, particularly in the state Senate.
Senators have already passed a bill that would allow magistrates opt out of performing weddings if they have a "sincere religious objection" to performing particular ceremonies. The measure, which is now making its way through the House, is seen as a way to shield magistrates who do not want to perform same-sex marriages. […]
During the same discussion, McCrory said he didn't see the need for a broader religious freedom bill that would protect a number of businesses and state officials from liability should they refuse service based on their personal religious beliefs.