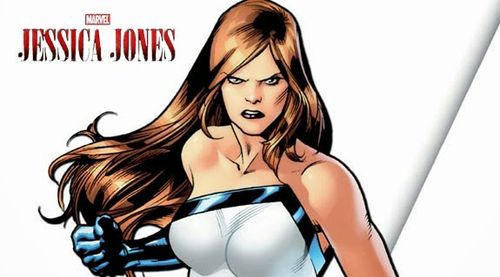 A.K.A. Jessica Jones is the upcoming Netflix original series about Marvel's Jessica Jones (played by Krysten Ritter), a woman who chooses a life of detective work over being a superhero despite being super strong and able to fly. The show is one of the four upcoming live-action series that Marvel Studios is producing with Netflix for a streaming release later this summer in addition to a multi-series Avengers-style crossover. While we're still a few months out from Jones's premiere, set photos have begun to surface that are giving Marvel's LGBT fans something more to look forward to. 
Nuove foto dal set di #AKAJessicaJones con @_Rachael_Taylor e @CarrieAnneMoss! #marvel #netflix #jessicajones pic.twitter.com/GCMLoH0tLk

— MoviesBook (@MoviesBookIT) March 25, 2015
Carrie-Anne Moss has signed onto Jones to play Harper, an original character seemingly created for the show. The set photos depict Moss in character kissing and embracing another unnamed woman, who could be her love interest. Harper's character description doesn't say much about the character other than her being a powerful potential ally of Jones's, but she might also be the first openly gay character introduced into the Marvel Cinematic Universe.
As Marvel Studios heads into its third phase of film and television content, it's beginning to make a more concerted push into broadening the diversity of its characters. The upcoming Avengers: Age of Ultron will finally introduce the second female hero to the iconic team as well as including the team's first non-American members. Similarly Marvel's Black Panther and Captain Marvel films promise to further expand the look and focus of its films. It's only fitting that the studio begin to include LGBT-identified people in its expanded universe.