Writer and teacher Josh Healey imagines what it's like as a straight man having to come out to his parents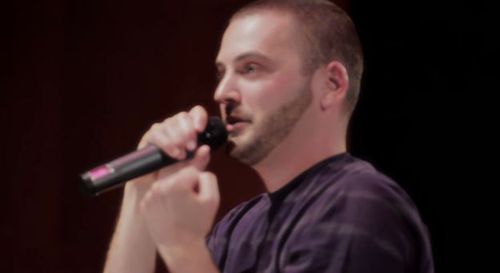 When writer and teacher Josh Healey attended his cousin Naomi's wedding to her girlfriend Lisa, he got to thinking about how "we have this idea in America that folks have to come out to everybody all the time."
"It's like you're not gay until I know that you're gay, and you know that I know that you're gay, then you're gay. Which makes no sense. It makes no sense, so I thought about this as a straight dude. OK, as a mostly straight dude, let's keep it real. I thought about what would it be like if straight folks had to come out too."
Imagining the horror of coming out to his "super liberal" parents as straight, Healey says:
"I don't know how this happened. It didn't just happen, I was born this way. But I tried to fit in, Lord knows I tried. I used to wear purple, I watched Bravo, I went to every Lady Gaga show I could. But no, no. I like Metallica, and bowling, and mom and dad, yes I like women. And I like this one woman, and mom, I want you to meet her, but I'm nervous. There's something you need to know about her first. I'm afraid to tell you, but you need to know. Mom, she's white."
Watch the video, AFTER THE JUMP…