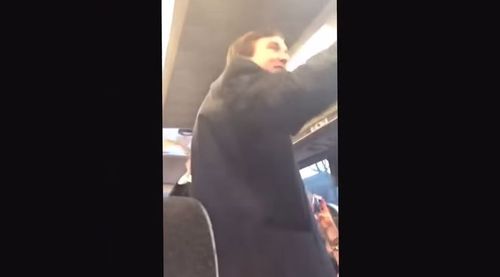 The University of Oklahoma's chapter of Sigma Alpha Epsilon has been closed and its members suspended after video emerged allegedly showing fraternity brothers singing a racist chant while on the way to a date part for the fraternity's founder's day.
ABC News reports:
The video quickly gained visibility online. It was obtained and posted to Twitter by Unheard, which describes itself as "an alliance of black students organized for change within campus administration and atmosphere." The video shows young men on a bus chanting, "There will never be a n—-r at SAE."
The tweet, directed at OU president David Boren, said "Racism is alive at The University of Oklahoma."
Students at the university planned to demonstrate on the Norman, Oklahoma, campus at 7:30 a.m. local time. A prayer vigil was held Sunday night.
Watch the disturbing 10-second video and a report on the story, AFTER THE JUMP…
As news of the video spread, SAE's national headquarters released a statement saying in part:
We apologize for the unacceptable and racist behavior of the individuals in the video, and we are disgusted that any member would act in such a way. Furthermore, we are embarrassed by this video and offer our empathy not only to anyone outside the organization who is offended but also to our brothers who come from a wide range of backgrounds, cultures and ethnicities.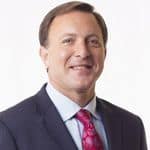 Added SAE national president Brad Cohen:
"I was not only shocked and disappointed but disgusted by the outright display of racism displayed in the video. SAE is a diverse organization, and we have zero tolerance for racism or any bad behavior. When we learned about this incident, I called an immediate board meeting, and we determined with no mental reservation whatsoever that this chapter needed to be closed immediately. I am proud of my fellow board members because we mean what we say."
OU President David Boren has also spoken out about the incident:
Updated statement attached. – DBo pic.twitter.com/xIvnd9otgu

— David Boren (@President_Boren) March 9, 2015
Oklahoma's KFOR reports: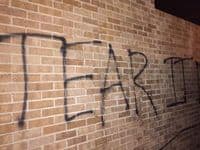 Just hours after the video was posted on the Internet, the fraternity house was hit by vandals.
Spray paint now covers the side of the building, including the phrase, "Tear it down."
In 2011, the same fraternity chapter came under fire following a member's death from excessive alcohol consumption.