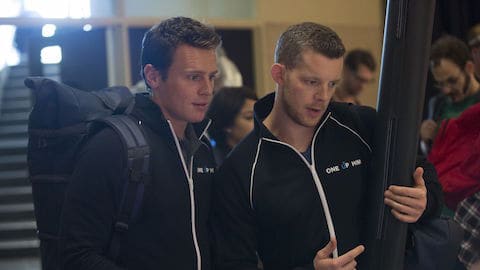 The back half of this season has really been rewarding viewers who have stuck with this show and invested in the characters. We're only one episode into the next phase of Kevin (Russell Tovey) and Patrick (Jonathan Groff)'s relationship, and already there's been plenty of developments. Without the excitement and drama of the affair, how will their romance take shape?
Let's chat a little about what went down tonight,  AFTER THE JUMP …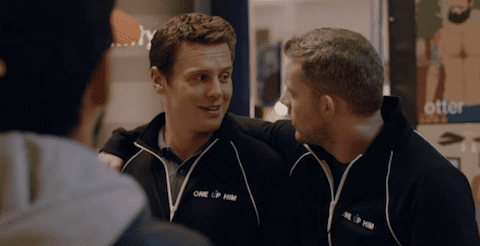 First off, a huge shout out to one of my favorite comedians, Gabe Liedman, appearing at the Glorified booth at the gay gamer convention. You may recognize Liedman from his work in Obvious Child or appearances on Kroll Show. His album, Hiyeeee!!, is great and he's a writer on gay-friendly Fox series, Brooklyn Nine-Nine. Tonight, he served as an entirely different perspective on Kevin and Patrick than all the friends and exes ("You guys are identical, why don't you just jerk off in the mirror if you think you're so cute?"). Even his compliment about their zip-ups felt like a read.
Compared to the sex portrayed beween Kevin and Patrick, tonight's sex scene with Agustin (Frankie J. Alvarez) and Eddie (Daniel Franzese) felt a lot more intense. It's still uncommon to see gay sex shown so explicitly on television, and even more so with an actor that doesn't fit the typical Hollywood ideal BMI. Then we got a full-frontal shot of Eddie post-coitus. It may seem like a small thing (no, not that), but it was a powerful image to see Eddie standing there in the buff.
Of course, the depiction of their sex is only half the story. There's also Agustin's panic about the load he took to the eye. There's an interesting story to be told around the dynamics of serodiscordant couples in today's age of undetectable status and Truvada, but tonight's episode was more about perception than risk. Just as Eddie's reaction is more about the community's reaction than just Agustin's. The entire diatribe — about everything from the self-hating, close-minded, racist gays to the "really well-intentioned guy [who] says that he's totally cool and really well-informed and big surprise, he's not" — is passionately delivered by Franzese. Agustin's response is also pretty perfect, admitting he had something to work on, but he's committed to this relationship. The redemption of Agustin is complete, and now I'm really rooting for him (and Eddie).
Dom (Murray Bartlett) got a little overzealous about that money from Doris (Lauren Weedman) and went ahead with getting his chicken window set up. Doris isn't around to help too much though, as she's traveling with Mailk (Bashir Salahuddin) to visit his family. Based on the preview for next week's episode, it's not looking like this is going to be a smooth opening for Dom.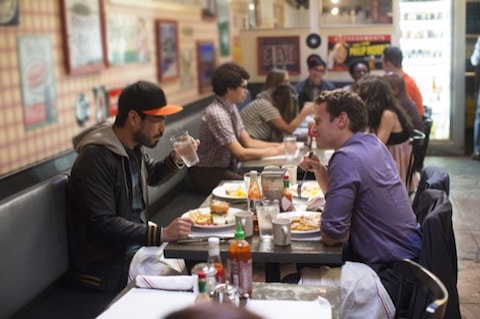 Finally, Patrick and Kevin. After weeks of the back and forth and withholding, Kevin finally seems to be investing in this relationship. It's Kevin who breaks it to the company that he and Patrick are a couple (prompted by Patrick wearing his sweater). It's also Kevin that explains to Richie that he and Patrick have gone legit.
That doesn't mean Patrick still isn't basking in this newfound domestic bliss. It was adorable to watch him race around their hotel room to show Kevin the suit, tie and corsage he secured for the gay prom. His glee is apparent, even from across the room. That's probably why you can read the heartache across Richie's face as he watches them dance at the gay prom.
For all of Team Richie out there, you definitely got a taste for his nastier side once Brady (Chris Perfetti) got a little too drunk. Sure, it's coming from a place of hurt, but it was still pretty lousy for Richie and Brady to be talking such smack about Kevin and Patrick behind their backs. Patrick may be clueless, but he's not vindictive (that drunken Halloween tirade aside). I was surprised to see Patrick and Kevin take it in such stride, but love will do that. Yes, the L-word. You could tell it'd been lingering in Patrick's throat for some time, but it was more surprising to see Kevin return the feeling.
What did you think of last night's episode? Do you think Kevin is really in love with Patrick?