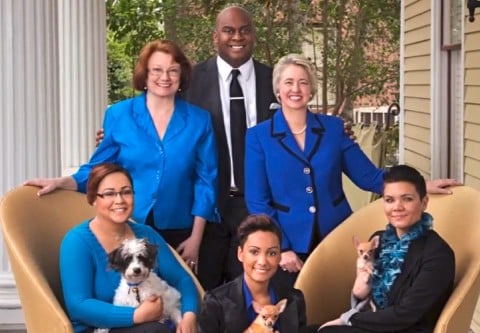 Most people know Annise Parker as the first openly LGBT person elected mayor of a major U.S. city.
But few, at least nationally, know that she and her wife are also the mothers of four children — one African-American and three biracial.
With Parker's final two-year term as mayor of the nation's fourth-largest city winding down, she and her wife opened up about their family in a recent interview with Houston's KTRK-TV. 
Not that they've ever been shy about the subject. 
"We're so far out of the closet that we live on the front lawn," Parker's wife, Kathy Hubbard, says. 
Nevertheless, the powerful, humanizing interview could come at an important time, with the U.S. Supreme Court set to consider same-sex marriage, the LGBT community under siege in the Texas Legislature, and the battle over Houston's Equal Rights Ordinance raging on.
In the interview, Parker talks about how the couple took in their son after meeting him at a gay Pride parade when he was a homeless teen. Today, he is sometimes mistaken as a member of the mayor's security team.
Parker and Hubbard also discuss their struggle to adopt their first daughter in the face of an anti-LGBT judge and a foster family that told the 7-year-old if she went to live with them, she would burn in hell. And they talk about the significance of their marriage in California last year. 
"It felt very special. We're still walking on air," Hubbard says.
Parker also spoke recently with The Washington Post for a biographical piece that touches on her possible political future after she leaves office at the end of the year. 
Watch KTRK's report, AFTER THE JUMP …