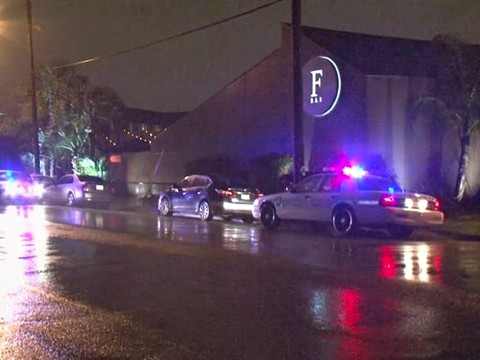 The other day we mentioned an apparent rash of recent anti-gay hate crimes in Houston, and suggested they may be linked to hateful anti-LGBT rhetoric from opponents of the city's Equal Rights Ordinance. 
Early Thursday morning, two people were shot just a few blocks apart in the vicinity of the city's Montrose gayborhood — including one fatally in the parking lot of a gay bar. 
KHOU-TV reports that a 22-year-old man was shot to death in an apparent carjacking after leaving F Bar, one of the city's most popular gay venues:  
KHOU 11 News spoke with the owner of F Bar, who says Wednesday night was a talent show night and the man who was killed was only 22 years old.

It happened around 1 a.m. Thursday while he was leaving the bar – he had tried to fight off two carjackers.

The victim's friend was nearby and ran inside to alert people. That is when the owner called for help.

"When we heard the bang, everybody did scream that were outside. Everybody just rushed into it when we heard the big bang," he said said.
The Houston Chronicle reports on the second shooting: 
The other shooting victim was found a few minutes later and a few blocks away in the 2600 block of Milam near Dennis, police said. He was slumped over the steering wheel of a vehicle and had been gunshot. The man, whose name has not been released, was rushed to Ben Tuab General Hospital. He was in critical condition.

The motive in the second incident appears to be robbery.

Police said investigators are trying to determine if the two shootings are related. They occurred minutes apart and a few blocks away from each other.
It's unclear whether either of these incidents was an anti-gay hate crime, but at the very least, it appears criminals may be targeting the area because they believe LGBT people make easier victims. 
Watch KHOU's report, AFTER THE JUMP …