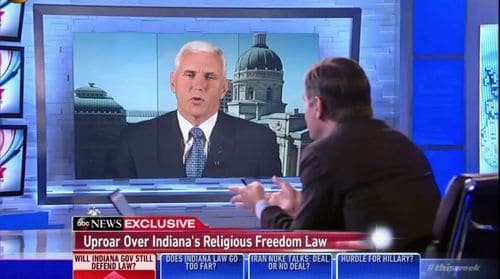 Appearing on This Week earlier this morning, Indiana Gov. Mike Pence attempted to mitigate the growing backlash against him and his state in the wake of the new "religious freedom" law.
Notably, Pence repeatedly dodged host George Stephanopolos's question whether the new law would allow businesses to discriminate against gays and lesbians. What he did spend time talking about, however, was the media's narrative surrounding the law and the so-called "avalanche of intolerance that's been poured on our state."
Watch, AFTER THE JUMP…
Last night, we reported Pence had pledged to "clarify the intent" of his new law. In his This Week interview, Pence reiterated he was not open to adding sexual orientation to the list of protected classes in his state.