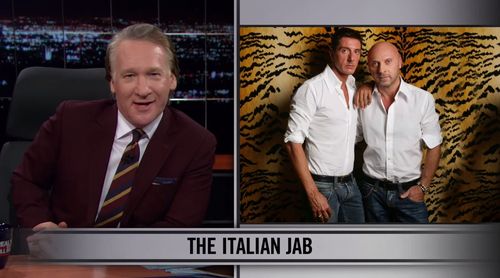 On Friday's editorial New Rule, Real Time host Bill Maher took aim at various news stories he deemed examples of "intolerance" among those on the political left: Elton John's feud with Dolce & Gabbana over the designers' "synthetic baby" comments, the backlash against The Economist after its cover story image on America's Latinos featured chile peppers, Smith College president apologizing for sending out an email saying "All Lives Matter" instead of "Black Lives Matter," the all-women's Mount Holyoke College canceling a performance of "The Vagina Monologues" because of concerns the play was not inclusive enough for trans women, and more. 
Said Maher:
You can't sell handbags now if you only agree with Elton John almost all the time? In Syria ISIS is throwing gay people off buildings. Maybe there are bigger battles to fight. We liberals always talk about how the right needs to rein in its crazies, but the left has some crazy reining in to do to. 
See why Maher's pissed, AFTER THE JUMP…
In a related video from Friday's episode, Maher and his guests Zachary Quinto, Barney Frank, S.E. Cupp and Jay Famiglietti discussed America's progress on gay rights in relation to other Western countries.
Gay rights question at 11:30 mark