Pope Francis has indicated he may not be head of the Catholic Church for much longer, UK's Independent reports: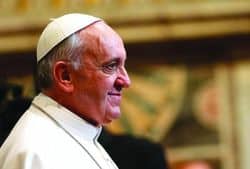 Speaking in an interview with Mexican network Televisa, marking the second anniversary of his election, he said: "I have a feeling that my pontificate will be brief. Four of five years; I do not know, even two or three.
"I feel that the Lord has placed me here for a short time, and nothing more."
Referring to Pope Benedict XVI's decision to become the first pope to step down in 600 years in 2013 he claimed: "An institutional door has been opened."
In the interview, Francis said that while he "did not mind being pope," he missed the anonymity of being a priest and being able to "go to a pizzeria for a pizza" without being recognized.