Protectmarriage.com and the National Organization for Marriage have lost their long, irrelevant fight over disclosure of Prop. 8 campaign donors today after the Supreme Court turned away an appeal to overturn a lower court ruling in the case, the Associated Press reports: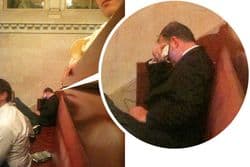 The groups sought to conceal their past and future campaign finance records because they feared harassment of donors. The 9th U.S. Circuit Court of Appeals ruled against them in part because the names have been publicly available for five years.
State law requires political committees to identify those who contribute more than $100 during or after a campaign, along with the donor's address, occupation and employer.
Pictured above right is NOM President Brian Brown weeping after New York lawmakers approved marriage equality in 2011.