Last July, U.N. Secretary-General Ban Ki-moon (pictured below) announced that the UN would formally recognize and extend benefits to all legal same-sex marriages of its staff.
Russia is now trying to change that.  
Reuters reports: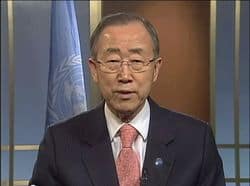 Russia wants the General Assembly Fifth Committee, which deals with the United Nationsbudget, to overturn Ban's decision and requested a vote on Tuesday. Russia has been threatening to put the measure to a vote since December.
The Fifth Committee website was updated on Friday to show that "action" would be taken on the proposal on Tuesday.
Diplomats, speaking on condition of anonymity, said it was unclear how much support there was for the measure. The Russian U.N. mission declined to comment.