Saks Fifth Avenue has settled a lawsuit in which it initially claimed it had a right to discriminate against transgender employees. 
Transgender woman Leyth Jamal (above), a former sales associate for Saks Fifth Avenue at Houston's Galleria mall, brought a lawsuit last September against the company, alleging wrongful termination based on sex in violation of Title VII of the federal Civil Rights Act of 1964, in addition to a hostile work environment, retaliation and breach of contract.
In court filings responding to Jamal's lawsuit, attorneys for Saks shockingly alleged that Jamal wasn't protected against discrimination under Title VII. The company's court filings also misgendered Jamal and argued that Saks wasn't bound by the nondiscrimination policy in its employee handbook, which includes gender identity.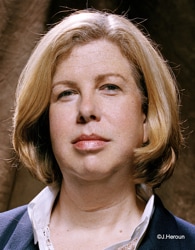 In a landmark 2012 ruling, the federal Equal Employment Opportunity Commission found that job bias against transgender workers qualifies as sex discrimination under Title VII. And in 2014, Attorney General Eric Holder announced the U.S. Justice Department was taking the position that transgender employees are protected under Title VII. 
Saks' anti-trans arguments prompted the Human Rights Campaign to suspend the company's score of 90 on the Corporate Equality Index. HRC later joined the National Center for Lesbian Rights in filing a brief in the case. 
Also getting involved were New York Attorney General Eric Schneiderman and the Department of Justice. Finally, Saks relented and withdrew the motion in which it had argued transgender workers aren't protected under Title VII, saying the company would instead fight Jamal's lawsuit on the merits. 
Six weeks later, Fortune Magazine reports that the case has settled: 
On Wednesday, Jamal's lawyers Jillian Weiss (above right) and Mitchell Katine filed a stipulation of dismissal of the case with prejudice. When asked about the terms of the settlement, Weiss told Fortune that the parties had amicably settled the lawsuit and they will have no further comments regarding the suit. Saks' lawyer Michael Mitchell did not immediately return a request for comment.