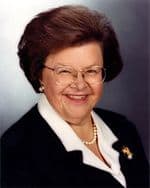 Senator Barbara Mikulski (D-MD), the longest serving Congresswoman in U.S. history, will retire from the Senate after five terms, the Washington Post reports:
Mikulski, 78, was the first woman to chair the powerful Appropriations Committee, a post she had to give up this year when the Democrats lost control of the Senate. A social worker turned politician, she has been a forceful presence on many pieces of legislation, passionately liberal on certain issues but also committed to working closely with Republicans.
Mikulski will make the announcement at an 11 am news conference, according to the paper.