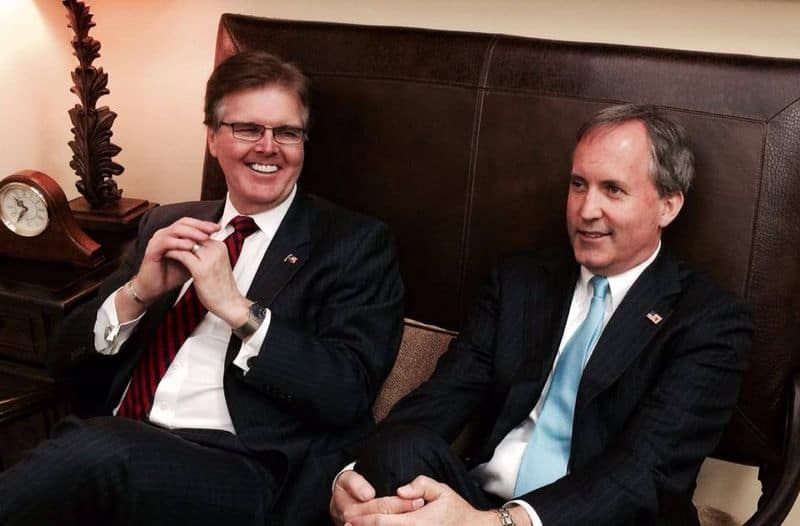 Texas' attorney general and lieutenant governor will join Alabama Chief Justice Roy Moore for an anti-gay rally at the Capitol on Monday afternoon. 
The US Pastor Council reports that Attorney General Ken Paxton (above right) and Lt. Gov. Dan Patrick (above left), both Republicans, will speak at the event, called the "Defense of Texas Marriage Amendment Rally."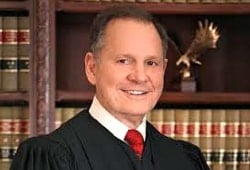 In addition to Moore, other speakers will include anti-gay pastors Rick Scarborough and David Wilson, as well as GOP Rep. Cecil Bell and Sen. Charles Perry, who've both filed legislation seeking to prevent Texas from issuing same-sex marriage licenses. 
Paxton's participation is hardly a surprise, considering that he's suing the Obama administration to prevent gay employees from taking unpaid leave to care for sick spouses, and seeking to void the marriage of a 30-year lesbian couple — one of whom has ovarian cancer. 
Patrick, meanwhile, believes God speaks through Phil Robertson of "Duck Dynasty," and has slammed Houston Mayor Annise Parker for traveling to California to marry her partner of 23 years.  
The rally is the second anti-marriage rally at the Texas Capitol in as many months. In February, anti-gay lawmakers cut hate cake to celebrate the 10-year anniversary of the state's marriage amendment (even though it didn't pass until November 2005). 
The Austin American-Statesman notes that today's rally is scheduled for the same day as Equality Texas' Family Advocacy Day:
"There will be people outside screaming about biblical marriage. Inside, we'll have real Texas families having a conversation with lawmakers about how current policy affects people's lives," said Chuck Smith, executive director of Equality Texas.