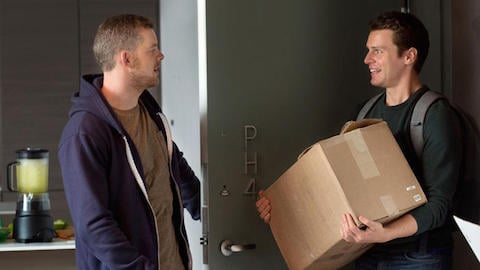 Low ratings (and cranky commenters) be damned. I sure hope this show comes back for a third season. It's no secret that Looking isn't the most tightly paced drama on television, but, two seasons deep, that should no longer be a surprise. What it's got going for it though is its cinematic feel, layered performances, and stories of some (not all) gay men that we don't often see on television.
Having seen the entire second season and how it so brilliantly mirrored last season's narrative arc, I think a third round of episodes — even a shortened order — could provide some necessary closure. Last season we got to glimpse Patrick's attempt at a relationship with Richie. This season he played house with Kevin. We need one more to put the triangle to rest.
Even if you're over Patrick's romantic troubles, I'm just not ready to say goodbye to Doris (Lauren Weedman) and Eddie (Daniel Franzese). Please, Emmy voters, pay attention to these two star-making performances. Their characters added so much to the series, and buoyed the sort of navel-gazing narcissism that can, at times, plague the central trio.
Let's dig into tonight's finale, AFTER THE JUMP …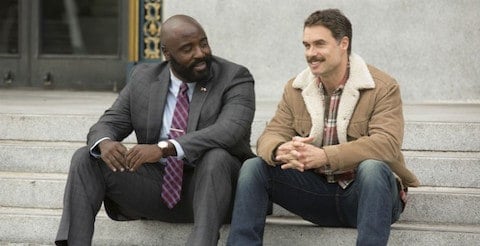 Before we sink our teeth into the meat of tonight's episode, let's put a cap on the story between Dom (Murray Bartlett) and Doris. The latter character in particular has grown by leaps and bounds this season, and the chance to see her on screens again is reason enough to renew this show for another season. Tonight, we had a short, sweet scene with Dom and Doris' man Malik (Bashir Salahuddin), where Malik encouraged Dom to mend fences with his longtime friend. Their eventual conversation felt a lot more measured than their previous heated exchange, but, as Doris and Dom agreed, some of the things they said in that emotional argument carried some truth. They do need to break-up a bit. As Dom tells her, "You need to start thinking about someone else first, instead of me." It's one of the most mature sentences ever spoken on this show. His chicken window has a neon sign, but only time will tell if it has any customers.
I never thought I'd say this, but I found myself wishing we spent more time with Agustin (Frankie J. Alvarez). He happily unveiled his mural with Eddie at the shelter, but I wish we got to see how he and Eddie are adjusting to being all official.
So, Patrick (Jonathan Groff) and Kevin (Russell Tovey). Their fight tonight was an incredible sight to behold. The writing, the visuals and the acting were all new high-water marks for the series. It's a wonder how thrilling it played out, even if we all could see it coming. Everyone knew their relationship was moving too fast, including Patrick's friends. You could sense the thirst coming off their downstairs neighbors in that elevator, so it was no surprise when their little get-together was actually a big ol' orgy. What was surprising was Patrick's reaction. I wouldn't have pegged him as being so curious about that …
…Especially in light of his reaction upon learning that Kevin is keeping Grindr on his phone. The ensuing argument — which was played with such engaging intensity by both Groff and Tovey — felt very raw. In this case, context is everything. Considering Patrick's naïveté and the risk he took moving in, it's not surprising that Kevin's revelation rattled him so much (even if on the surface, many people won't think it's that big of a deal). Couple that with his sister's harsh words last week, and you start to understand the source of Patrick's acid-tongued line: "You're such a good liar, Kevin, I've seen you do it."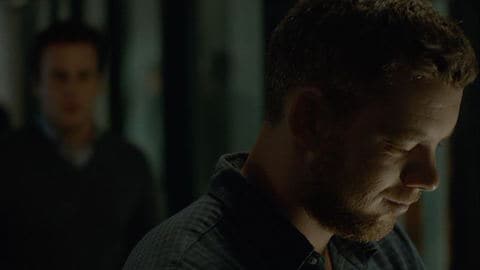 And yet, I wouldn't count Kevin completely out. As Patrick stood, clad in his briefs, staring up at The Field of Dreams poster, I'm not sure if he's given up the idea of 'if he builds it, it will come.' If he builds this home with Kevin, maybe the relationship will come next?
I've been saying that the narrative arc of this season follows closely to season one. Last season left the state of Patrick and Kevin's relationship in flux as he was last seen with Richie (Raul Castillo). As Patrick settled in for a haircut with Richie tonight, it's not clear what exactly he said he was ready for, but allowing Richie to cut his hair certainly signaled Patty's ability to be a bit more vulnerable. Maybe now that his perceived family obligations have been obliterated, it's not Kevin he's liberated to be with. It's Richie.
What did you think of the finale?