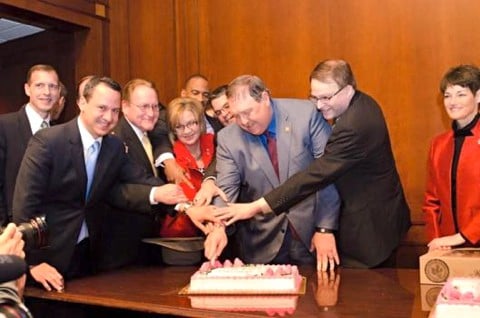 AUSTIN — Texas lawmakers are scheduled to debate a bill Wednesday that aims to bar county clerks from issuing marriage licenses to same-sex couples — even if the U.S. Supreme Court strikes down state marriage bans as expected in June. 
The "Preservation of Sovereignty and Marriage Act," by GOP Rep. Cecil Bell, would remove authority over marriage licenses from elected county clerks and place it with the appointed secretary of state. It would also prohibit state or local funds from being used to license, register, certify or support same-sex marriage. 
The bill is set to be heard Wednesday by the House Committee on State Affairs. You can watch a live-stream of the hearing here, but it is not expected to begin until late Wednesday afternoon.
"Should this legislation pass, and then the Supreme Court rules in favor of the freedom to marry, Texans would have to foot the bill for millions of dollars of litigation," Equality Texas Executive Director Chuck Smith said during a press conference about the bill on Wednesday morning. 
Kathy Miller, president of the Texas Freedom Network, called the bill "a legislative temper tantrum" from those who refuse to accept that the U.S. Constitution guarantees equal protection for same-sex couples.  
"Passing the bill would put Texas on a collision course with both the United States Supreme Court and the harsh judgment of history, and in both cases Texas would fare very poorly," Miller said. 
The bill, which has 21 co-authors, is one of four anti-gay marriage bills introduced by Rep. Bell (shown above cutting cake at a rally in February to mark the 10th anniversary of the state's marriage amendment). If passed by a two-thirds majority, which is unlikely, it would take effect immediately. If passed by a simple majority, it would take effect Sept. 1, three months after the Supreme Court is expected to rule on the issue.
The bill is one of more than 20 anti-LGBT measures introduced in the Texas Legislature this year, the most in the history of any state. 
On Monday, Alabama Chief Justice Roy Moore spoke during a rally at the Capitol and encouraged Texas lawmakers to follow his lead and defy federal court rulings in favor of marriage equality.
A federal district judge struck down Texas' marriage ban last year, but stayed his decision pending the state's appeal to the 5th U.S. Circuit, which heard oral arguments in January. The 5th Circuit has not yet ruled.   
Should you wish to contact members of the House Committee on State Affairs, their info is here.