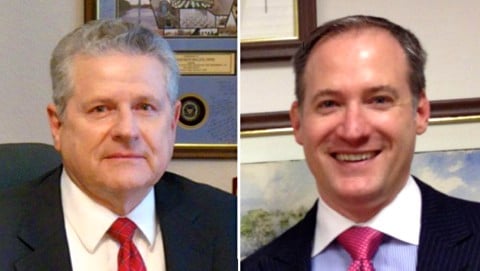 The other day we told you about an Arkansas-style anti-LGBT bill that's been introduced in the Texas Legislature. 
The proposal from GOP Rep. Rick Miller (above left) would prohibit cities from adopting or enforcing nondiscrimination ordinances protecting LGBT people. The proposal is nearly identical to Arkansas' Senate Bill 202, which became law last month. But the Texas bill would have a far more sweeping effect, undoing LGBT protections that have passed in cities with a combined population of more than 7.5 million, including Austin, Dallas, El Paso, Fort Worth, Houston, Plano and San Antonio. 
As it turns out, Texas' Rep. Miller has a gay son, Beau Miller (above right). 
From The Texas Observer: 
Rep. Miller's son, Beau Miller, an openly gay 41-year-old Houston attorney, is an HIV and LGBT activist.  Miller said he was "extremely disappointed" to learn about his father's bill.

"If the bill progresses through the Legislature, I'm sure there will be a robust conversation about the impact not only on minority communities, such as the LGBT community, but also on local rule in Texas," Beau Miller said.
Meanwhile, Rep. Miller provided this explanation for his proposal, according to the Observer:
"HB 1556 will prevent local governments from expanding business regulations beyond limitations established in state law," Miller told the Observer. "Competing and inconsistent local ordinances interfere with economic liberty and discourage business expansion. By promoting instead of restricting business growth, this bill is about job creation and an improved state economy, both of which have a direct, positive impact on Texas citizens."
Beau Miller later posted the following Facebook:
As many of you know by now, my dad has authored and submitted a bill in the Texas House of Representatives that, if signed into law, would prevent municipalities in Texas from maintaining sexual orientation anti-discrimination laws. While I love my dad very much, I am extremely disappointed by his actions and will do everything I can to prevent that bill, or any such legislation, from becoming law.

I have been in fairly intense talks with my dad and his office about this issue. Although I am hopeful that I can persuade him to agree to not pursue this bill's advancement, that outcome is far from certain. If anyone would like to help in this effort, I suggest writing to him about yours or a friend's experience with discrimination and how it felt. To that end, and with full recognition of the deep emotions at play, please do not match hate with hate, or engage in name calling or insults. It does not help. Those type of communications tend to do more harm than good.

This is also a time to reflect on the fact that while marriage equality is in sight, the fight for justice and civil rights for all is far from over. It is at these times we should all remember Martin Niemöller's poem: First they came for the Socialists, and I did not speak out—Because I was not a Socialist. Then they came for the Trade Unionists, and I did not speak out—Because I was not a Trade Unionist. Then they came for the Jews, and I did not speak out—Because I was not a Jew. Then they came for me—and there was no one left to speak for me.

On an even more personal note, I would like to thank my amazing partner and friends for your unconditional love and support. This would be so much tougher without you.

Beau
You can contact Rep. Miller at 512-463-0710 or Rick.Miller@house.state.tx.us.