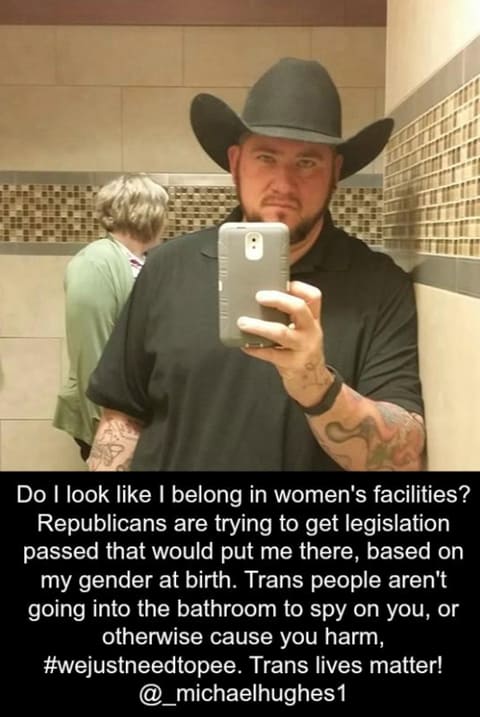 Around the country, conservatives have tried (and succeeded in many cases) to use the specter of a transgender person in the bathroom as a scare tactic intended to kill the passage of gender identity-inclusive anti-discrimination laws for years. In recent weeks, heinous "bathroom bills" have sprung up intended to reward students who report that their trans peers are using the 'wrong' bathroom at school.
Now, trans people are fighting back with a bathroom selfie campaigns intended to reveal how ridiculous the legislation is.
The #PlettPutMeHere campaign was started by 23-year-old Canadian Brae Carnes in response to Senator Don Plett, who introduced legislation in Canada exempting public washrooms from a bill that would fight hate crimes against trans individuals by adding gender identity provisions to both the Criminal Code and the Canadian Human Rights Act. 
Plett said that "the major issue raised with us from concerned citizens across the country" was to safeguard children from any harm that would result from giving a man access to women's public bathroom facilities.
Trans man Michael C. Hughes followed Carnes's lead (above). Wrote Hughes in one post: "Florida's #hb583 and Minnesota's #sf1543 will make guys like me use women's facilities. This is what that will look like. Trans people aren't trying to access bathrooms to creep on people in there, #wejustneedtopee".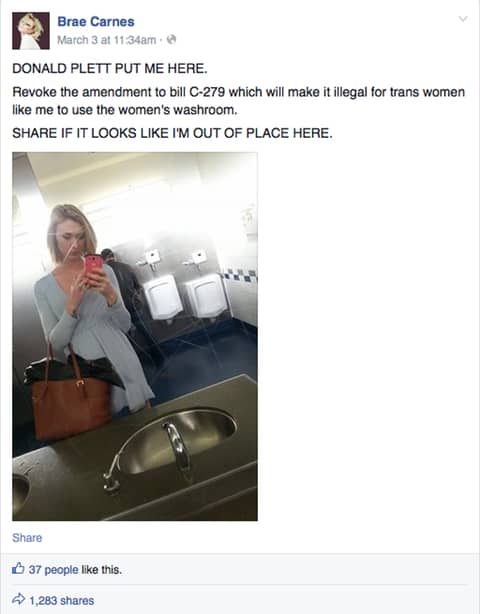 The #WeJustNeedToPee hashtag has been around for some time in an effort to fight disgusting anti-trans legislation but the new selfie dimension may be just what the effort needs to bring more mainstream media attention.
And other trans social media users around the country are beginning to reveal the real picture.
More photos of Hughes, AFTER THE JUMP…
Because obviously someone who looks like this belongs in the men's restroom. #wejustneedtopee #TransLivesMatter pic.twitter.com/c286tmQ71l

— embarrassing (@trans__princess) March 12, 2015
#occupotty #wejustneedtopee #translivesmatter #guyslikeus #thankyouforthesupport pic.twitter.com/a1UYhkEEBL

— Michael C. Hughes (@_michaelhughes1) March 12, 2015
#occupotty #wejustneedtopee #translivesmatter #guyslikeus #thankyouforthesupport pic.twitter.com/ZUGf2ckHkx

— Michael C. Hughes (@_michaelhughes1) March 12, 2015
#translivesmatter #occupotty #wejustneedtopee pic.twitter.com/Wx3U86qMHH

— Michael C. Hughes (@_michaelhughes1) March 11, 2015