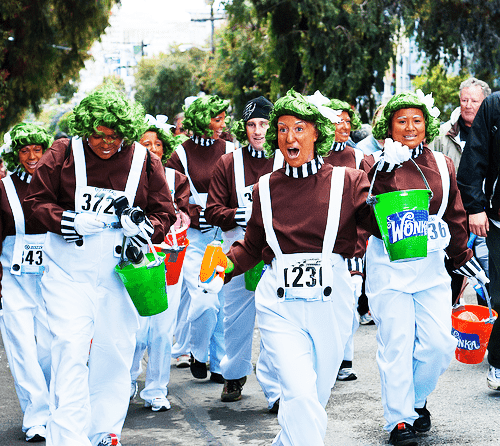 This weekly travel column is brought to you by ManAboutWorld, an immersive digital gay travel magazine for iOS and Android devices from Billy Kolber, Ed Salvato, Kenny Porpora, and nearly 75 Global Correspondents.
San Francisco is pretty much always ripe for a visit. It's perfection in the spring, they host the world's craziest Pride in summer, and three big gay street fairs, culminating with Folsom in the fall. But for a city so full of crazy parties, the Bay-to-Breakers street party — a 103-year-old foot race — is the only one that officially takes over the city and gives you a glimpse into the no-limits, creative, quirky spirit of the city as a whole.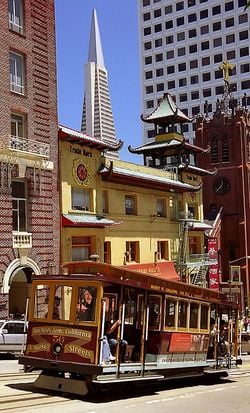 Sure, it's the sh-t show to end all sh-t shows, and wherever you go, you'll run into costumed hordes, drunken masses, and the lingering smell of weed. Nowhere is safe from kookiness. And that's the point. So make a crazy costume, grab a couple beers, and get ready to walk from the bay to the breakers. (Or, don't, and just pretend to walk it while veering off into some debaucherous, spontaneously combusting dance party in Alamo Square Park, like everybody else does.)
On May 17, 2015, the city will host the country's longest ongoing race, maxing out at 12K from the San Francisco Bay and ending where the breakers crash onto the Pacific's Ocean Beach near the Great Highway. Visit baytobreakers.com for registration info, fundraising opportunities, and the rules of the road.
If you head to San Francisco for this wacky road race or any other reason this spring, there's a lot to see and do from Alcatraz to Golden Gate Park to the Castro and on and on. We cover the city in full in ManAboutWorld, but we recently fell in love with the following five spots, which we for your next visit to the City by the Bay. 
1. Hotel Vitale: Understated elegance makes this property one of our favorite boutique hotels. The Americano Bar in the lobby — one of the city's best — is great for a nightcap (they also serve breakfast in the morning.) The hotel is walking distance to Boulevard, The Slanted Door, Blue Bottle Coffee and the Ferry Building Market. It's the best hotel in the Embarcadero area.
2. Starbelly: This spot is quintessential San Francisco: an easy-to-miss exterior, a warm, sleek-wood decor, low-hanging lights, a covered patio, seasonal, locally sourced ingredients, and a sophisticated gay (and straight) crowd. Starbelly is the best Castro restaurant for a Saturday night dinner with a hip, lively atmosphere and great food.
3. Foreign Cinema: This oasis is enmeshed beside the Chilango grit of Mission St. At night, a silent, subtitled foreign film plays on a concrete wall above the warm glow of candle lit tables making it a nice choice for a romantic anniversary dinner; but the real surprise here is weekend brunch, featuring a sun-soaked patio, inside-outside seating, homemade pop-tarts, fresh-squeezed orange juice and a Croque Madame that will leave you speechless.
4. Churchill: Only a couple years old and already a neighborhood favorite, Churchill has a pool table, jukebox, and creative cocktails served in mason jars. Artsy specialists mix the drinks, but don't be afraid to order a heavy beer in this place.
5. Toad Hall: The best of the gay clubs, Toad Hall has window seating, a dance floor, great music, and strong drinks. On crowded weekends, sit out on the back patio where there's a separate bar and room to breathe. The bathrooms are crowded and lines are frustratingly long, but the good-looking crowd and familiar bartenders more than make up for it.
For even more insider recommendations in San Francisco for other destinations in the U.S. and around the globe, get ManAboutWorld Magazine on iTunes (iOS) or Google Play (Android). 
Image credits: Top: Zappos-Bay to Breakers; Right: David Ohmer; Bottom: Bhautik Joshi