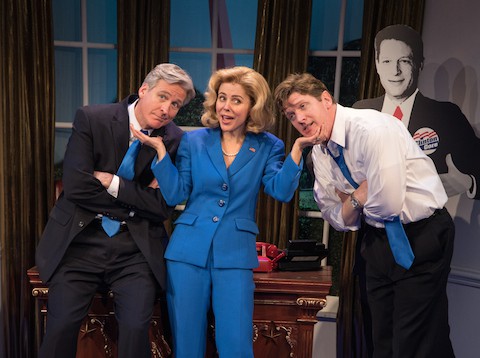 BY NAVEEN KUMAR
Hillary may have just set up campaign digs in Brooklyn, but Bill's two terms are getting a bawdy send-up across the river in Clinton the Musical, which opened Off Broadway at New World Stages last night. The loose-limbed romp down memory lane offers a Mad TV meets Cliff's Notes-style recap of the scandals that rocked Mr. Clinton's reign, from Whitewater to Lewinsky. But, it's also an origin story for the Clinton on everyone's lips, and in the brilliantly zany hands of Kerry Butler (whose turn as Olivia Newton John's character in Xanadu is the stuff of Broadway musical legends), the likely nominee for 2016 is a comedic force to be reckoned with.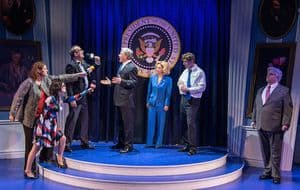 First presented stateside at the 2014 New York Musical Theatre Festival (and previously in Edinburgh), the musical by Peter and Michael Hodge has plenty to delight, not least of all the kooky and charming Ms. Butler. While these may not be the first descriptors the former First Lady calls to mind, the scribes take (many) liberties in their behind-the-scenes peek at a national sex farce in era of dial-up modems and monochrome pantsuits. While Butler's two rousing solo numbers are worth all that comes between, this is a story about Bill—or, rather, two dueling sides of him.
"In my whole life, I have only ever loved two men—and they happen to be the same man." With her opening line, Hillary introduces two versions of the former president: one, "William Jefferson" (Tom Galantich), is upstanding and trustworthy, while the other, "Billy" (Duke Lafoon), likes French fries, sex, and thumbing his sax. The two are often on stage at once, meant to be just one person (at first, only Hillary can actually see Billy). But trying to wrap your head around the stage logic of this simple, two-sides-to-every-coin metaphor proves to be more trouble than it's worth.
Shoehorning a (relatively) high-concept stage gag into what is otherwise a low satire proves to be an awkward endeavor. Quarrels between the two Bills, presumably meant as inner dialogue, offer little insight on the man's thinking, and Hillary debating them both makes for an odd political threesome. It's Billy (the id among the three), of course, who meets Monica (Veronica J. Kuehn), who the Hodges have written as a scheming, blow-up-doll of a character that makes for easy laughs but feels uncomfortably misogynistic.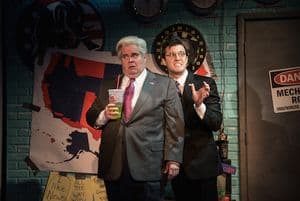 The musical's score has its ups and downs (the opening number, entitled "Awful-Awesome," is inadvertently and mostly accurate), and director Dan Knechtges (Tail! Spin!, Lysistrata Jones) makes fun use of a rotating set and recurring sight gags (including a life-sized cutout of Al Gore and a singing portrait of Eleanor Roosevelt). The show's juiciest laughs come from its super villains, Newt Gingrich (a rotund and petulant John Treacy Egan), first seen scarfing marshmallow goo from the jar in the sub-sub-basement of Congress, and Kenneth Starr (a gleefully maniacal Kevin Zak), whose pursuit of Bill is as awesomely perverse as it is sinister.
With the real political stage about to light up, a silly escape to root for our heroes and vilify our opponents may be just what the 24-hour pundits ordered. And, focusing on Hillary (and the idiocy of her family's rivals) while allowing Bill to fade into the background may be perfect practice, too.
Recent theatre features… 
Possessed Puppet Comedy 'Hand to God' Opens on Broadway: REVIEW
Carey Mulligan and Bill Nighy Open in 'Skylight' on Broadway: REVIEW
Elisabeth Moss and Jason Biggs Open on Broadway in 'The Heidi Chronicles': REVIEW
Helen Mirren Reigns on Broadway in 'The Audience': REVIEW
John Cameron Mitchell on Returning to 'Hedwig': INTERVIEW
Follow Naveen Kumar on Twitter: @Mr_NaveenKumar (photos: russ rowland)