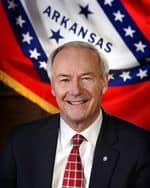 Arkansas Governor Asa Hutchinson says an executive order protecting LGBT people from discrimination is not necessary after he signed a reworked "religious freedom" bill, the AP reports:
Hutchinson told reporters Thursday he had considered such an order as an alternative in case lawmakers didn't agree to his request to revise the religion bill after it faced widespread criticism that it was anti-gay. The Republican governor last week signed the compromise measure, which supporters say addresses discrimination concerns by more closely mirroring a 1993 federal law.
Advocates still want the governor to sign the order.
And this just in:
Gov. Asa Hutchinson said Thursday he plans to move quickly to appoint special justices to replace members of the state Supreme Court who recused themselves from a new case spun off from a challenge to Arkansas' ban on gay marriage.