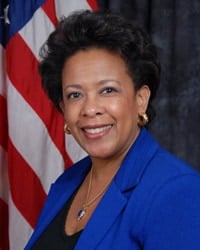 Newly sworn-in Attorney General Loretta Lynch has released a statement with regard to today's U.S. Supreme Court hearings on same-sex marriage.
Says Lynch in the statement provided to Towleroad:
"I am committed – as is this department – to ensuring equal dignity and equal treatment for all members of society, regardless of sexual orientation.  As we argued today before the Supreme Court, same-sex couples deserve that treatment now."
You can listen to audio of the hearings and read the transcripts HERE.
Our legal editor Ari Ezra Waldman has posted his initial analysis of the arguments in four parts: Part 1, Part 2, Part 3, Part 4.