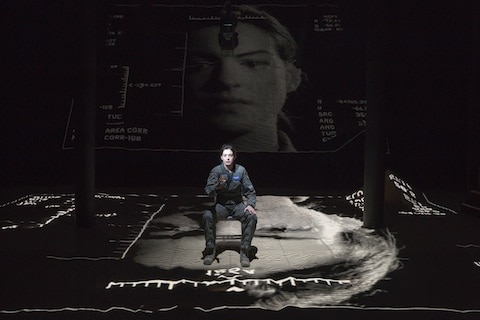 BY NAVEEN KUMAR
The propelling force that drives Grounded, a solo play by George Brant that opened Off Broadway Sunday night at the Public Theatre, feels like strapping into the cockpit with its fighter pilot protagonist. Fueling every minute of its momentum, Anne Hathaway delivers a fearless and wholly captivating performance as a military aviator who both destroys lives and creates a new one over the course of the play's 70 minutes. Under the direction of Julie Taymor, the thrilling yet intimate production navigates psychological twists and turns in the pilot's mind with the audience sitting shotgun.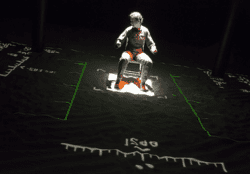 The story begins "up in the blue," a vast, whizzing-by sky, where we learn the pilot feels most alive and herself. Her course veers quickly, though, when she unexpectedly gets pregnant after meeting a guy at a bar while on leave. The condition is enough to get her grounded for medical reasons, and her relationship to her beloved bird's-eye-view is forever changed — both because she winds up starting a family with the father, and because when she does return to service, her new driver's seat is on the ground, controlling a drone from behind a desk (in the "chair force," as she calls it).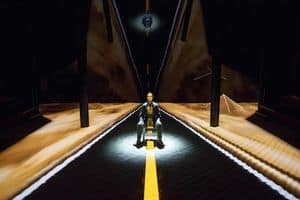 The transition isn't easy. Instead of barreling through the sky solo, she works her shift in an around-the-clock war from a Nevada base, and lives nearby with her husband and daughter. While it may seem like a welcome solution to the typical scenario of going off to battle (and away from family and into harm's way), returning home each night feels like coming home from the war over and over; this is not the sort of work that's easily left behind at the office. Motherhood doesn't affect her devotion to military service, but the intertwining of her civilian life with remote combat creates a whirlwind in her psyche — ultimately racking her own understanding of life and death.
If this sounds like a lot of story for one person to tell, it is — and Hathaway does it with tireless gusto and remarkable richness of feeling, maneuvering sharp turns of emotion with ease and baffling precision. Though she plays only one character, she's also responsible for conjuring up the others who impact the pilot's life, including her family and fellow servicemen (she is the sole female officer in the story). She does all of this while maintaining the pilot's point of view, so her exchanges with others are always an opportunity to shed further light on her own character.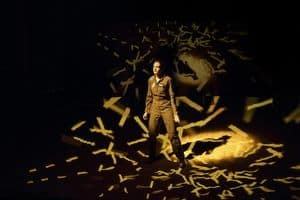 Taymor's stunning visual work is refreshingly pared down from her typical scale (blink away your memories of the scandal-plagued behemoth Spider-Man: Turn Off the Dark). The director's distinctive imagination creates a vivid world of the mind with striking moments of subtle stage magic, while her physical staging nimbly steers Hathaway through the story's many psychological ringers. Her hand is also evident in the engrossing design elements, including a floor of desert sand and haunting projections. This immersive quality helps drive the play's disarming point closer to home, that violence out of sight should not and cannot be out of mind — as this production won't soon be out of many.
Recent theatre features… 
'Fun Home' and 'An American in Paris' Top 2015 Tony Award Nominations: ANALYSIS
Chita Rivera Stars in New Musical 'The Visit' on Broadway: REVIEW
New Musical 'Something Rotten!' Brings Shakespeare and Sex Puns to Broadway: REVIEW
Alison Bechdel's Graphic Novel Comes to Broadway in New Musical 'Fun Home': REVIEW
Kelli O'Hara and Ken Watanabe Open In Lavish Broadway Revival of 'The King and I': REVIEW
Matthew Morrison and Kelsey Grammer Open in 'Finding Neverland' on Broadway: REVIEW
Ballet Meets Broadway in Dazzling New Musical 'An American in Paris': REVIEW
'90s Political Sex Farce 'Clinton the Musical' Opens Off Broadway: REVIEW
Possessed Puppet Comedy 'Hand to God' Opens on Broadway: REVIEW
Carey Mulligan and Bill Nighy Open in 'Skylight' on Broadway: REVIEW
Follow Naveen Kumar on Twitter: @Mr_NaveenKumar (photos: joan marcus)