Arkansas Gov. Asa Hutchinson has signed SB 975, an amended "religious freedom" bill that reportedly more closely mirrors the 1993 federal act.
BREAKING: Arkansas governor signs revised religious objections bill into law.

— The Associated Press (@AP) April 2, 2015
Arkansas Online reports: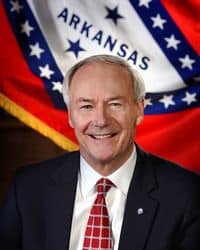 SB975 is seen as a replacement for House Bill 1228, a bill supporters said ensured state protections for religious freedom but opponents decried as enabling discrimination against gay people.
Hutchinson had said he would sign HB1228 but announced Wednesday after it made it to his desk that he wanted a change — either by amendment or new legislation — that brought the bill's intent closer to the language of the 1993 federal act, which was signed into law by President Bill Clinton.
Rep. Bob Ballinger, R-Hindsville and the sponsor of HB1228, said that first bill was "really good" legislation and that its application had been mired by incorrect perceptions rising out of controversy surrounding it and a religious-freedom bill that was signed into law last month in Indiana.
Hutchinson said yesterday he's considering signing an executive order barring discrimination for state employees. 
HRC reacts:
"The fact remains that the only way to ensure LGBT Arkansans are treated equally under state law is to add explicit protections for them," said Sarah Warbelow, HRC's Legal Director.  "Moving forward, Arkansas should explicitly clarify that the RFRA cannot be used to undermine non-discrimination protections at any level.  In addition, all states and the federal government should provide explicit non-discrimination protections on the basis of sexual orientation and gender identity.  The federal Religious Freedom Restoration Act, while well-intentioned, has been used in recent years to justify problematic behavior that harms third parties. We remain concerned that the federal RFRA and bills modeled after it may be used to undermine protections for the LGBT community and other minority groups. This new legislation, if it passes and becomes law, could be used to undermine existing and future civil rights laws in the state, and that is unacceptable."